Here begins the text.
PMDA-ATC Medical Devices Seminar 2016
Pharmaceuticals and Medical Devices Agency (PMDA) recently completed the PMDA-ATC Medical Devices Seminar 2016 on November 7-11, 2016. This seminar was designed for officials of regulatory agencies who are engaged in the review of medical devices and in vitro diagnostics. Total of 28 regulators from 13 regulatory agencies (i.e. Australia, Brazil, Hong Kong, India, Indonesia, Malaysia, Myanmar, Singapore, South Africa, Sri Lanka, Taiwan, Thailand and Zambia) have joined the seminar.

The seminar opened with welcome speeches by Chief Executive Dr. Tatsuya Kondo, and Mr. Haruo Akagawa, the Director of Asia Training Center for Pharmaceuticals and Medical Devices Regulatory Affairs, followed by lectures and group works from the staff members at PMDA.
In the seminar, lectures were delivered on medical device product reviews, consultations, clinical trials, GCP/GLP inspections, Quality Management System (QMS) inspections, post-marketing safety measures, medical safety measures, package inserts, patient registration system, medical device standards (utilization of international standards, etc.), in vitro diagnostics product reviews, capacity building, international regulatory updates (see agenda for details).
In addition, group discussions on consultations and product reviews, presentations by the participants on drug regulations of their regulatory authorities, and site visit to manufacturing facilities, etc. took place and the participants actively engaged in discussions throughout the seminar.

Over 18 staff members from PMDA provided lectures and aided the group works.
At the end of the seminar, the Course completion certificates were handed to each one of the participants by Mr. Haruo Akagawa.
Photos and participant comments
<Lectures by PMDA staff members>
Participants enthusiastically asked many questions.
Comments from participants:
"We learn two topics including medical device regulations in Japan and review of medical devices with clinical data. Moreover, one scope is very interesting about priority review and sakigake concept."
"The presentation laid out exactly what is required and the role of PMDA. Linkages with international standards were brought out clearly. Detailed work flows were provided in the presentation. Good job!"
"Have learned types of Adverse Event Reports both from MAH and user. From of Adverse Event Reports, some statistical data of user report. Moreover, safety measures implemented by MHLW and PMDA."

<Group work session>
Group work sessions are one of the key sessions of the Seminar. The case studies provided the opportunity to discuss with other regulators on the important points to keep in mind during the product review.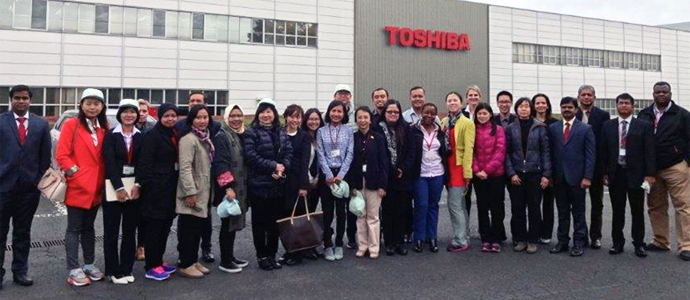 Comments from participants:
"This session is very excellent session because we can discuss about the topic on group, share information and gathering our answer from different country regulation."
"This section provides us very good for learning how to review the medical device especially the safety system."
"Cause I never review this product so this presentation is more excellent knowledge for me and very useful with attractive presentation. Hope for the future seminar all the presentation will be like this presenter, love it."
"That topic of the discussion is so useful. I am a reviewer for that kind of products. That activity give me a chance to check if our practice and assessment conform to others countries."

<Group photo at the closing ceremony>
Each participant received a certificate of completion from Mr. Akagawa.
Overall comments from the participants
"It was good seminar to look at the regulation of the Japanese market medical devices. The various types of medical devices were discussed and what constitutes a medical device was also given. I particularly liked the discussion on IVDs as these related to my everyday job."
"Excellent seminar. I learn a lot from this seminar. The group discussion & manufacturing site visits are very interesting!!"
"Please continue to conduct this kind of training in the future as this is a good platform for regulators around the world to know /learn Japanese system."


PMDA-ATC Seminars are held periodically, with a different theme for each seminar.
The Seminar announcements are posted on PMDA's Events and Symposia website.

For any questions regarding PMDA Training Seminar, please contact us by clicking on the "Contact us" logo on top of the website, or please contact the Secretariat, PMDA-ATC@pmda.go.jp.