Here begins the text.
New Drug Review with Electronic Data
In recent drug development, the use of data-based quantitative information such as those using modeling and simulation (M&S) methods has been proactively promoted in decision-making process.

Under such circumstances, PMDA recognizes the need for accumulating electronic study data, analyzing the data by advanced methods, and making use of the data in the process of its reviews and consultations. The use of such accumulated data is expected to reduce the workload of regulatory submission for sponsors, improve PMDA's evidence-based reviews and consultations, and lead to development of new guidelines, which will eventually result in the rise of the success rate of drug development.

This webpage provides related information about our new approach.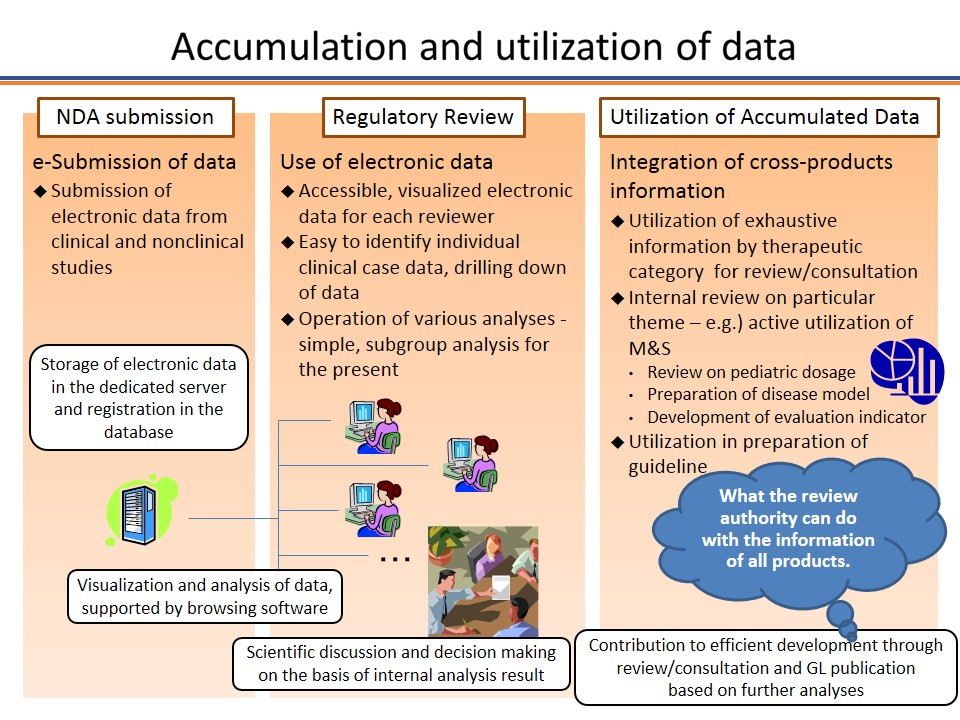 Relevant Guidance and information
Study Data Validation Rules
A pilot plan to confirm the feasibility of the submitted electronic data utilization system
The Pilot Project in FY2015

For any inquiries on this page, please send your message to this address: jisedaiPT●pmda.go.jp
(Note: For the purpose of security, @ in the e-mail addresses are replaced with ●. Please replace ● with @ when you send an e-mail.)
(Please note that not all inquiries would be answered respectively. Thank you for your understanding.)