Here begins the text.
PMDA-ATC Pharmacovigilance Seminar 2017
Pharmaceuticals and Medical Devices Agency (PMDA) recently completed the PMDA-Asia Training Center for Pharmaceuticals and Medical Devices Regulatory Affairs (ATC) Pharmacovigilance Seminar 2017 on February 6-9, 2017, as a Center of Excellence Pilot Workshop for the Pharmacovigilance and Medical Device Vigilance Priority Work Area in the Asia-Pacific Economic Cooperation, Life Sciences Innovation Forum, Regulatory Harmonization Steering Committee (APEC-LSIF-RHSC). This seminar was designed for officials from overseas regulatory agencies who were engaged or interested in pharmacovigilance. Total of 28 regulators from 15 economies (Brazil, Chile, China, Chinese Taipei, India, Indonesia, Korea, Malaysia, Myanmar, Nepal, Peru, Philippines, Poland, Singapore and Thailand) joined the seminar.

The seminar opened with remarks by Dr. Tatsuya Kondo, Chief Executive of PMDA, followed by lectures and group works provided by the faculty consisting of PMDA staff as well as those dispatched from an overseas regulatory agency, Japan Pharmaceutical Manufacturers Association (JPMA) and academic institutions including universities. The topics discussed in the seminar covered various topics, e.g., adverse event reporting, labeling regulation, Risk Management Plan (RMP) implementation and regulation, risk communication and pharmacoepidemiology (see agenda for details).
In addition, group works were actively conducted, in which the participants identified safety specifications and made RMPs for an imaginary case of drug. The participants enthusiastically engaged in discussions throughout the seminar.

In total, more than 27 trainers, including more than 10 staff members from PMDA, contributed to the lectures and group works.
At the end of the seminar, certificates for course completion were awarded to each participant by Mr. Haruo Akagawa, Director of PMDA-ATC.
Photos and participant comments
<Lectures>
Lectures were provided by experts in pharmacovigilance. There were also presentations by representatives of every participating economy about their own pharmacovigilance systems. Participants enthusiastically asked many questions.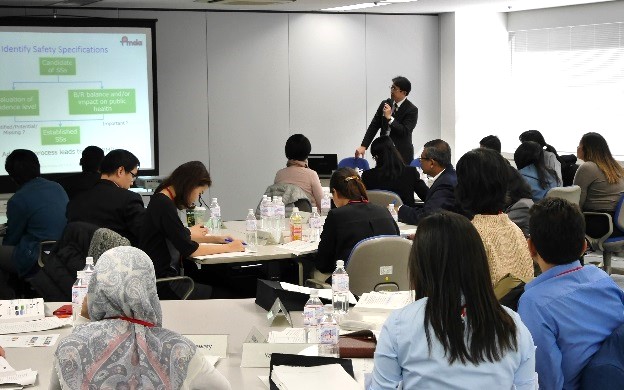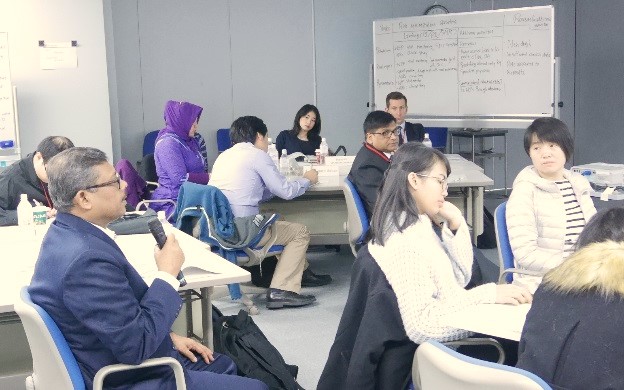 Comments from participants:
"The key messages are made very clear by the speaker. Key processes & differences have been well summarized in easily understandable charts/tables. The speaker handled the Q&A session well."

"Very good presentation with substantial information. Questions were handled efficiently with satisfactory answers. On database management a lot of good information were received to take home. Effective epidemiological studies on disease/drugs in the future would be desirable & essential."

"The presenter has well explained on safety information as a tool for signal management. She has also adequately addressed risk management for prevention of adverse effects. She has highlighted on risk communication in drugs to promote safe use of drugs by sharing risk information in accurate & understandable way."

<Group work session>
Group work sessions are one of the key sessions of the seminar. The group works provided opportunities where the participants discussed with other regulators as well as staff members on the important points to be kept in mind while conducting pharmacovigilance activities.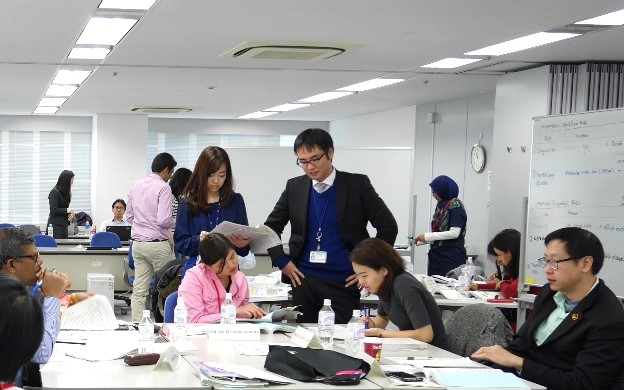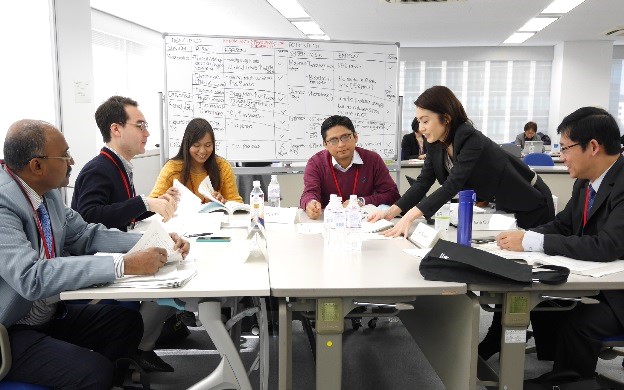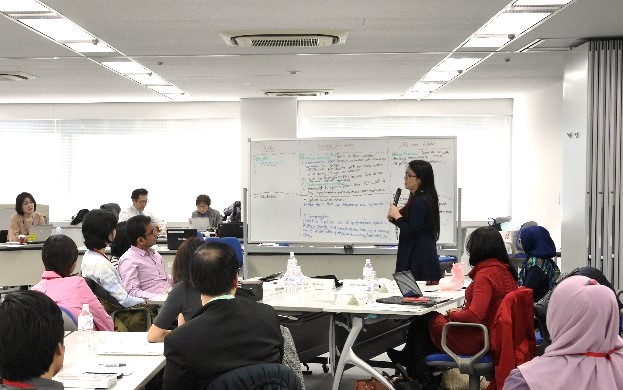 Comments from participants:
"A good opportunity for all participants to discuss and explore new insights from various perspective."

"Very useful to understand & practice for developing Risk Management Plan. Very interactive session."

"It was very interesting and helpful work shop. Discussion with other participants was good and I could think about reasons why and how we identify safety specification."

"It was a very good exercise for the participants to have hands-on experience about the Risk Minimization Activities (RMA)."

<Group photo>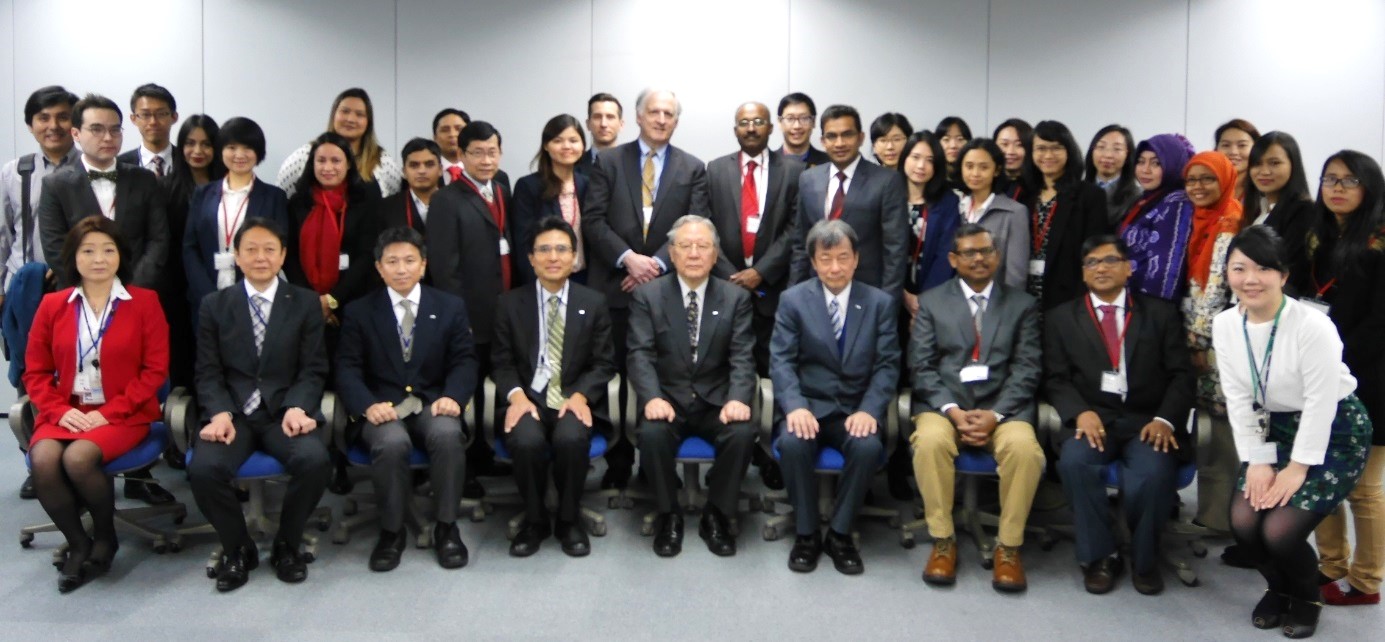 Overall comments from the participants
"I really liked how well-developed the topics of RMP and labelling were. Usually these kinds of seminar cover a lot of topics but without focusing on the details of any. This one was very different from the usual and because of that intense focus I learned a lot of practical aspects and hindsight of these subject."

"It was such a rich experience. Besides the opportunity to know people from different countries with different experiences, the whole event was perfectly organized. There were excellent lectures with accurate information."

"Generally, the seminar is very good and interactive. There are many information we can propose & implement to improve/strengthen pharmacovigilance system in my country."


PMDA-ATC Seminars are held periodically, with a different theme for each seminar.
The Seminar announcements are posted on this website.

For any questions regarding PMDA Training Seminar, please contact us by clicking on the "Contact us" logo on top of the website, or please contact the Secretariat, PMDA-ATC@pmda.go.jp