Here begins the text.
PMDA-ATC Pharmaceuticals Review Seminar 2017
Pharmaceuticals and Medical Devices Agency (PMDA) recently completed the PMDA-Asia Training Center for Pharmaceuticals and Medical Devices Regulatory Affairs (ATC) Pharmaceuticals Review Seminar 2017 on June 26-30, 2017. This seminar consisting of lectures in Tokyo and Toyama and manufacturing site visit in Toyama was designed for new drug application reviewers from overseas regulatory agencies. Total of 28 regulators from 11 countries/regions (Brazil, China, Chinese Taipei, Hong Kong, Malaysia, Myanmar, Philippines, Saudi Arabia, Singapore, Thailand and Vietnam) joined the seminar.

The seminar opened with remarks by Dr. Toshiyoshi Tominaga, Associate Executive Director, followed by lectures and group works provided by PMDA staff members and a lecturer dispatched from Japan Pharmaceutical Manufacturers Association (JPMA). The topics discussed included consultations, clinical trials, toxicology, Good Clinical Practice (GCP)/ Good Laboratory Practice (GLP) inspections, product reviews (for new/generic drugs), package inserts, safety measures, Risk Management Plan (RMP), the relief system for sufferers from adverse drug reactions, recent challenge to accelerate drug development in Japan, and new drug development from an industry viewpoint (see program for details).
In addition, group works were actively conducted for case studies on the product review. The program in Toyama included a manufacturing site visit to observe a patch manufacturing process and its quality control, and a lecture by a staff member of Toyama Prefectural Government of Japan on drugs that are approved by a prefectural governor.

In total, 14 trainers, including more than 10 staff members from PMDA, contributed to the lectures and case studies.
At the end of the seminar in Tokyo, certificate for course completion were awarded to each participant by Mr. Kenichi Mikami, International Senior Training Coordinator and Office Director, Office of New Drug I.

Photos and participant comments
<Lectures>
Lectures were provided by experts of product review, relief system, drug safety and drug development (JPMA). There were also presentations by representatives of every participating economy about their own pharmaceuticals review systems. Participants enthusiastically asked many questions.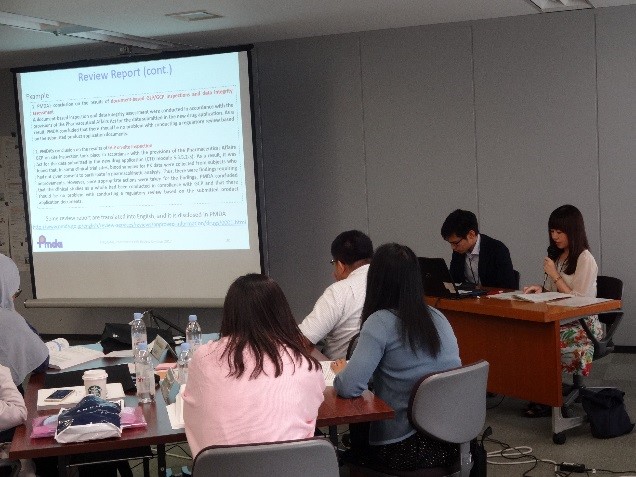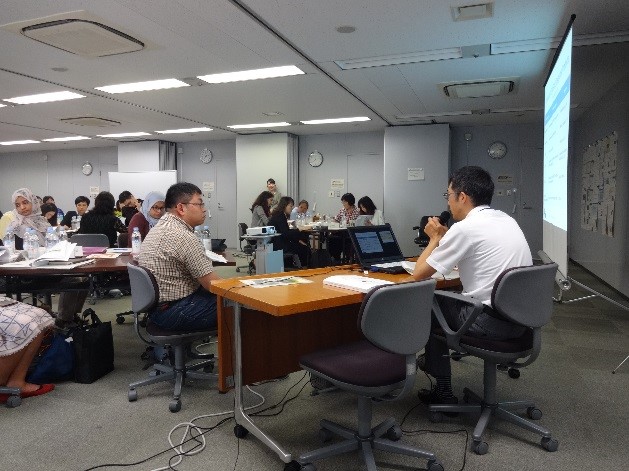 Comments from the participants:
"Thank you for giving an in-depth presentation about the new drug review process in Japan. This presentation provides valuable information for us to know more about the review process of PMDA."

"PMDA's review of generic drugs gives us a good example and experience to improve the efficacy and quality of generic drugs. It's a good presentation."

"The presentation discussing the Relief system for ADRs of PMDA was impressive in a way that the Japanese people are very committed in treasuring the value of human life. For the Relief system to be established way back was noteworthy."

"This training was comprehensive and covered every essential area of pharmaceuticals review. As a drug reviewer, I think it is a valuable opportunity to learn about the best practice of PMDA in the pharmaceutical review process, and I was impressed by the efforts and initiatives by PMDA to facilitate the drug approval process (e.g. SAKIGAKE)"

<Case studies>
Group work in Case studies sessions are one of the key sessions of the seminar. The group works provided opportunities where the participants discussed with other regulators as well as PMDA staff members on the important points to be kept in mind while conducting the product review.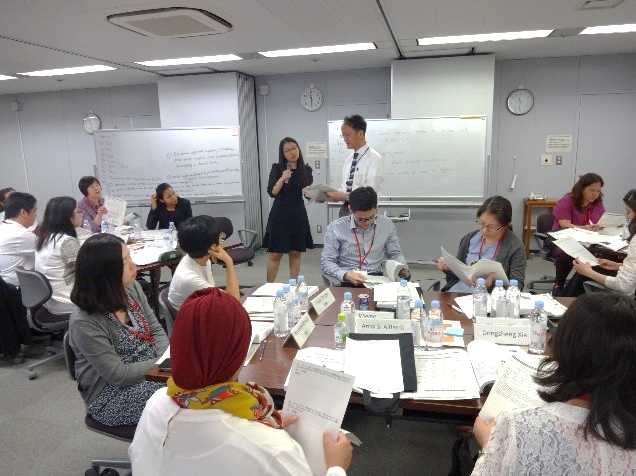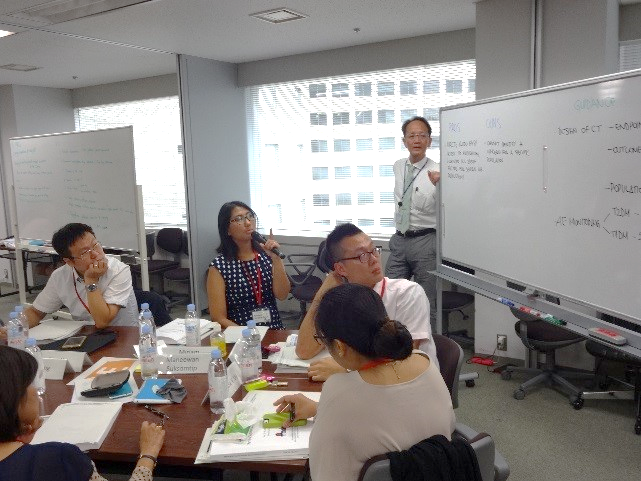 Comments from the participants:
"Good discussion of the case study and lecturer provided guidance & explanation when team was not very sure. The small group & eventual large group discussion provided insight or the considerations during drug evaluation across different regulatory systems."

"The case study provided a platform for me to interact more with my group mates. It was beautiful to hear their ideas and inputs. "

"The case study was very useful to understand how each agency make analysis of data. It was very productive and fruitful exercise."

<Group photo>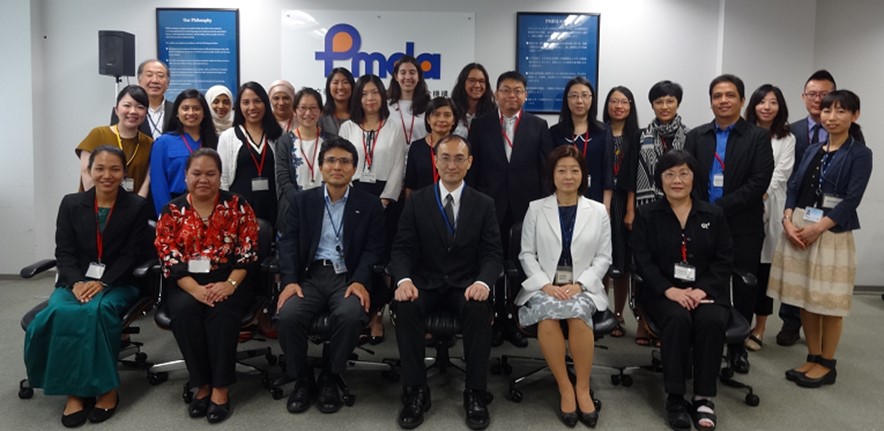 Overall comments from the participants
"PMDA's preparations for this seminar are so thoughtful. I was interested in all of presentations. The lecturers provided us much information and they are very enthusiastic.
Thanks a lot for your support!"

"The seminar provided a good overview of the drug development process, regulatory systems and how PMDA works. Lecturers and participants were all willing to share experiences so the seminar provided a very good platform for the exchange of ideas/ information for the participants to bring back to the country to look into & future enhance their own regulatory system."

"The plant visit was pleasant, very organized and informative. The technology involved is quite impressive, highly efficient and less prone for mix-ups & contaminations."



PMDA-ATC Seminars are held periodically, with a different theme for each seminar.
The Seminar announcements are posted on this website.

For any questions regarding PMDA Training Seminar, please contact us by clicking on the "Contact us" logo on top of the website, or please contact the Secretariat (e-mail: PMDA-ATC●pmda.go.jp).

Note: For the purpose of security, @ in the e-mail address is replaced with ●. Please replace ● with @ when you send an e-mail.