Here begins the text.
PMDA-ATC Medical Devices Seminar 2017
Pharmaceuticals and Medical Devices Agency (PMDA) recently completed the PMDA-Asia Training Center for Pharmaceuticals and Medical Devices Regulatory Affairs (ATC) Medical Devices Seminar 2017 on November 6-10, 2017. This seminar was designed for medical devices and in-vitro diagnostic products reviewers from overseas regulatory authorities. Total of 30 regulators from 12 economies (Azerbaijan, Bangladesh, India, Indonesia, Malaysia, Philippines, Singapore, Sri Lanka, Taiwan, Tanzania, Thailand and Turkey) joined the seminar.

The seminar opened with remarks by Mr. Haruo Akagawa, Senior Executive Director of PMDA, and also Director of PMDA -ATC, followed by lectures and group works provided by over 20 PMDA staff members, a lecturer from Ministry of Health, Labour and Welfare and a lecturer dispatched from Japan Federation of Medical Devices Associations.
The topics discussed included medical device / in-vitro diagnostic product reviews, consultations, Good Clinical Practice (GCP) / Good Laboratory Practice (GLP) inspections, Quality Management System (QMS) inspections, post-marketing safety measures, registration system, standards for medical devices (utilization of international standards, etc.), and collaboration with U.S. Food and Drug Administration (see agenda for details). In addition, group discussions on medical device reviews, presentations by the participants on regulations of their regulatory authorities, and site visit to a training facility, etc. took place. The participants actively engaged in discussions throughout the seminar.
At the end of the seminar, certificates for course completion were handed to each participant by Dr. Tetsuya Kondo, Chief Executive.

Photos and participant comments
<Lectures>
Lectures were provided by experts of medical device / in-vitro diagnostic product reviews, GCP / GLP inspections, QMS inspections and medical device developments. There were also presentations by representatives of every participating economy about their own systems of medical device reviews. Participants enthusiastically asked many questions.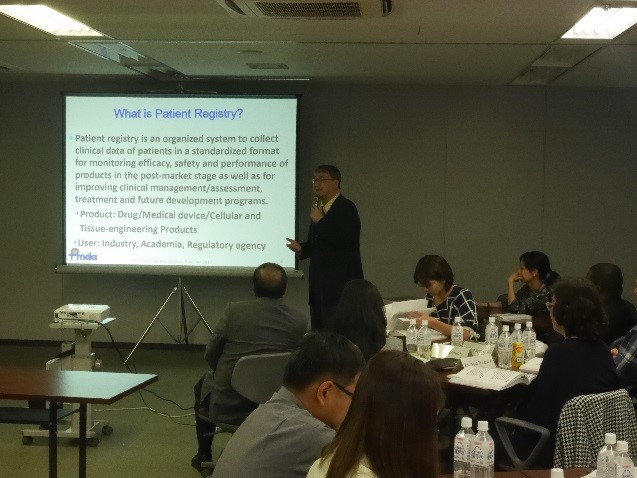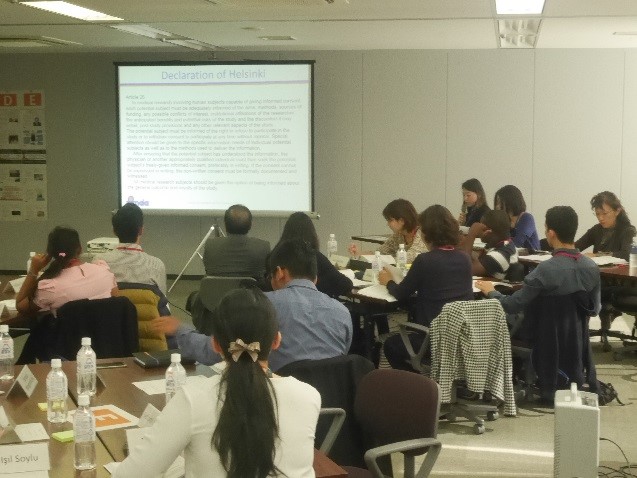 Comments from the participants:
"Good discussion for comparing regulation in Japan and in my country."

"I have clear view of the review and approval of medical devices in Japan. For consultation part, the seminar gave us ideas to help industries in order to comply regulation."

"The seminar was very good program to understand the PMDA's outlook for the regulation of Medical Devices. It is good to understand the tool (mechanism/efforts) taken by PMDA for the harmonization of regulations especially by capacity building of regulators."

<Case studies>
Group works in case study sessions are key sessions of the seminar. They provided opportunities where the participants discussed with other regulators as well as PMDA staff members on the important points to be kept in mind while conducting medical device reviews.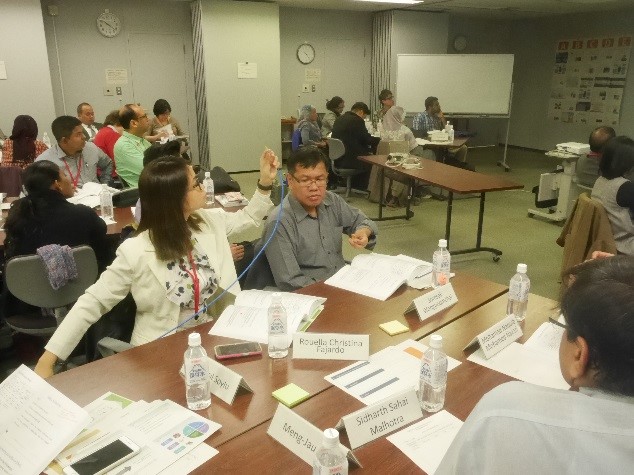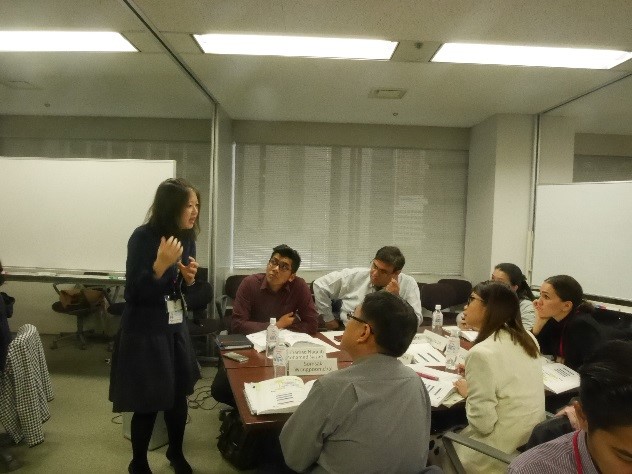 Comments from participants:
"Group works were very interesting to understand the regulatory aspects to be considered when a critical medical devices is applied to the country."

"I can see the many ideas from each participant members that can improve my knowledge and point of view. "

"They are interesting activities. Participants have a chance to share their opinion and knowledge. It's important to consider other components in medical device reviews, each as: surgical performance, hospital equipment and personal."

<Group photo>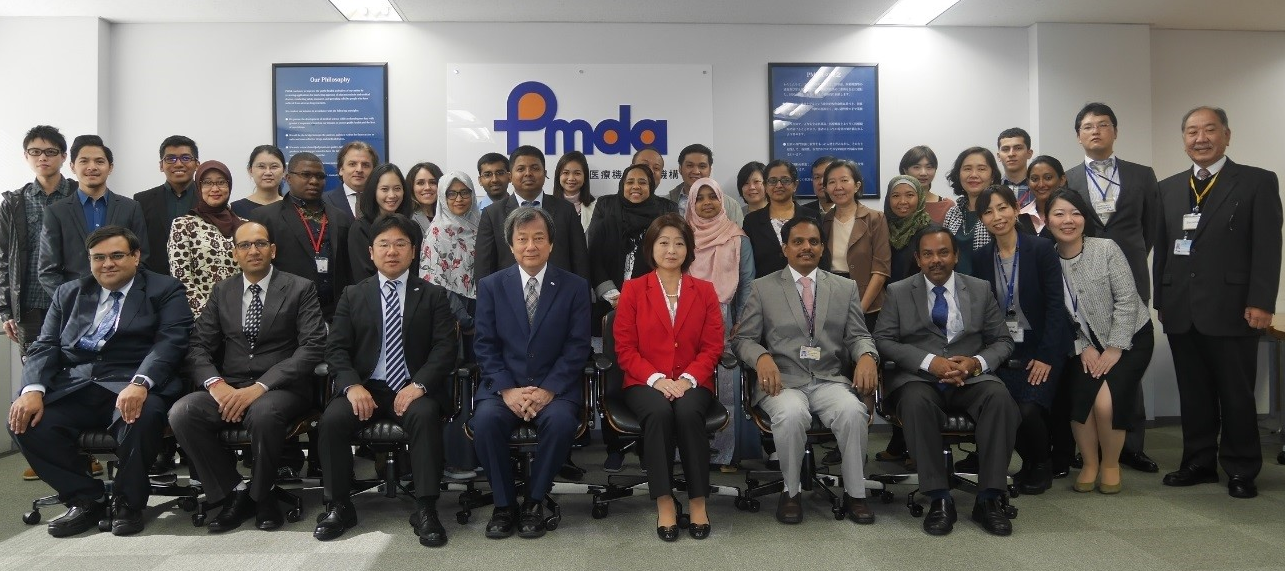 Overall comments from the participants
"I really enjoyed the seminar. There are a lot of new ideas I have learned from the lectures and some of them I'm going to implement in our country's regulation system. This was a good opportunity for us to learn Japanese regulation system."

"Overall the seminar was well organized, the topics were very interesting and the participants were so active. Happy to be sharing experiences about medical devices regulation from other country and especially regulation in Japan. Good experience joining the training."

"The seminar generally was very well organized and the materials presented were informative and useful for any country. The involvement of participants from different regulatory authorities was very useful in sharing, discussing different affairs related to medical devices. It was a good platform for creating a good network with people in different regions. Hands on and practical experience were also provided."

PMDA-ATC Seminars are held periodically, with a different theme for each seminar.
The Seminar announcements are posted on this website.

For any questions regarding PMDA Training Seminar, please contact us by clicking on the "Contact us" logo on top of the website, or please contact the Secretariat (e-mail: PMDA-ATC●pmda.go.jp).

Note: For the purpose of security, @ in the e-mail address is replaced with ●. Please replace ● with @ when you send an e-mail.