Here begins the text.
PMDA-ATC MRCT Seminar 2018
Pharmaceuticals and Medical Devices Agency (PMDA) recently completed the PMDA-Asia Training Center for Pharmaceuticals and Medical Devices Regulatory Affairs (ATC) Multi-Regional Clinical Trial (MRCT) Seminar 2018 on January 15-18, 2018, as a Center of Excellence (CoE) Workshop for the MRCT/Good Clinical Practice (GCP) Inspection Priority Work Area in the Asia-Pacific Economic Cooperation, Life Sciences Innovation Forum, Regulatory Harmonization Steering Committee (APEC-LSIF-RHSC). This seminar was designed for officials from overseas regulatory agencies who were engaged or interested in the area of MRCT. Total of 25 regulators from 11 economies (Azerbaijan, Brazil, Hong Kong, India, Indonesia, Malaysia, Myanmar, Philippines, Sri Lanka, Chinese Taipei and Thailand) joined the seminar.

The seminar opened with remarks by Dr. Yoshiaki Uyama, International Senior Training Coordinator as well as Office Director of Office of Medical Informatics and Epidemiology, followed by the message from Mr. Haruo Akagawa, Director of PMDA-ATC. Subsequent lectures and case studies were provided by staff members from PMDA, Japan Pharmaceutical Manufacturers Association (JPMA) and academic institutions. The seminar consisted of 7 sessions, i.e., MRCT-related basic information, international cooperation and alignment, planning and designing, operations, data evaluation, GCP inspection and post-market safety evaluation (see agenda for details). As newly added topics, participants introduced their own review systems and regulations before going into group discussion and the clinical site tour to National Center for Global Health and Medicine (NCGM) was held. In each session, participants listened lectures diligently and involved in Q&A in a proactive manner. Besides, all participants addressed group work actively and were able to deepen their understanding through the case studies. In the case studies, discussions not only among participants but also with the facilitators were held.

In total, more than 50 trainers, including more than 18 staff members from PMDA, contributed to the lectures and case studies.
At the end of the seminar, the course completion certificate was handed to each participant by Dr. Tatsuya Kondo, Chief Executive of PMDA.

Photos and participant comments
<Lectures>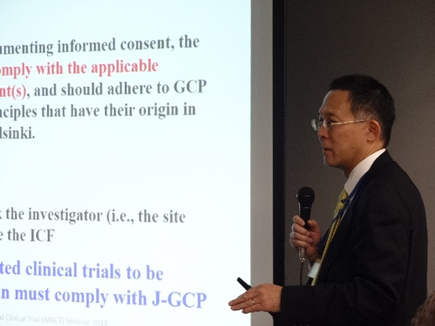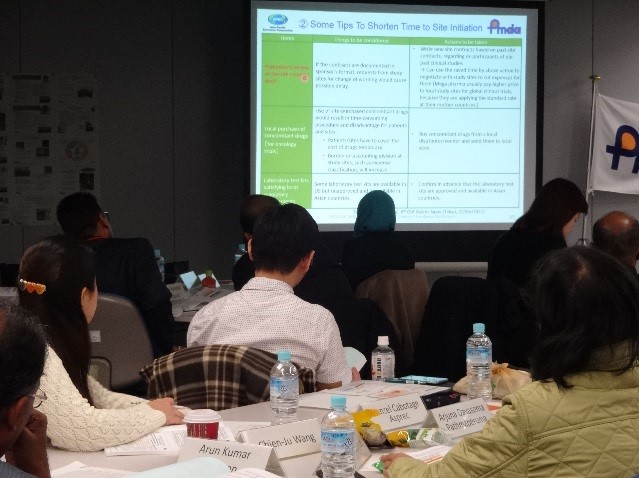 Comments from participants:
"It was an excellent presentation on understanding of doing evaluation by extrapolating the MRCT data considering ethnic and other aspects."

"Very informative and useful discussion on what should be considered when planning/designing dose-finding MRCT and Phase III confirmatory MRCT."

"Good to know PMDA experiences in reviewing MRCT results which may be also applicable in my region when review MRCT result of drug approved."

"The viewpoints from industry show more information about MRCT operation problems that regulatory authorities should consider and understand, moreover the communications between industry and regulator is so important."

<Case studies>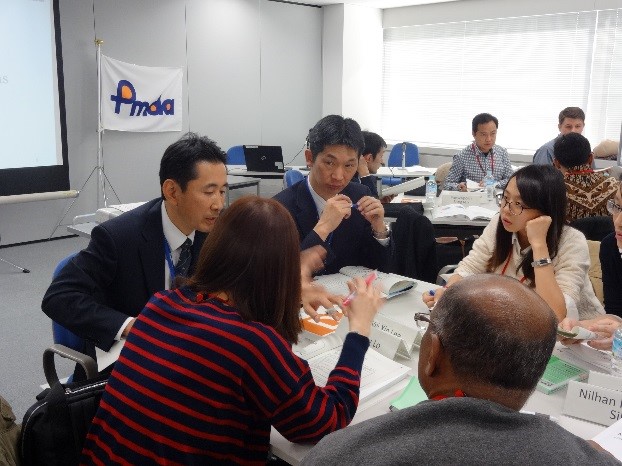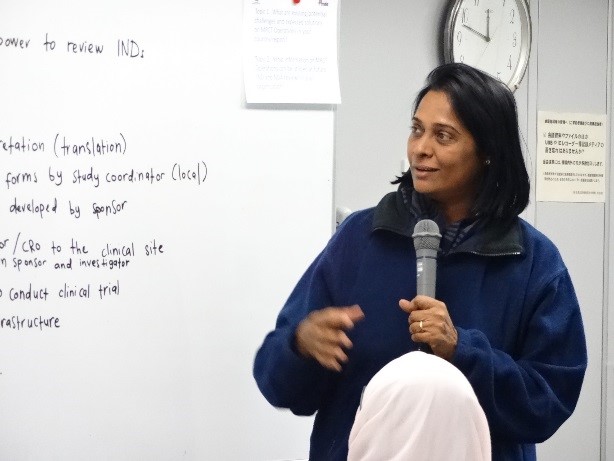 Comments from participants:
"The cases selected were very good and facilitators helped us a lot during the discussion. Presenting an example of answer in the end was also very helpful."

"Give an opportunity to know problems from other region, and this is helpful session to share the solutions from each region that may utilized at future operation in my country. "

"It was an excellent session for understanding about the discrepancies observed during GCP inspection and its interpretation for taking action"

"This group discussion was very good and gave us the opportunity to see different group's approaches to a "real case" in pharmacovigilance."

<Group photo>
Overall comments from the participants
Comments from participants:
"This seminar enabled the participants from various national regulatory authorities to learn more about the current issues and updates on MRCT operations. Furthermore, this served as an excellent platform for regulators and industry personnel to exchange insights and viewpoints. It allowed the delegates to learn the best practices on MRCT operations."

"The seminar was incredibly informative, and being able to discuss with fellow regulators and have industry view-points was a very positive thing."

"Overall this seminar provides very useful and comprehensive materials, also from this seminar, participants are able to initiate how to implement MRCT in each economics."

PMDA-ATC Seminars are held periodically, with a different theme for each seminar.
The Seminar announcements are posted on this website.

For any questions regarding PMDA Training Seminar, please contact us by clicking on the "Contact us" logo on top of the website, or please contact the Secretariat (e-mail: PMDA-ATC●pmda.go.jp).

Note: For the purpose of security, @ in the e-mail address is replaced with ●. Please replace ● with @ when you send an e-mail.