Here begins the text.
PMDA-ATC Pharmacovigilance Seminar 2018
Pharmaceuticals and Medical Devices Agency (PMDA) recently completed the PMDA-Asia Training Center for Pharmaceuticals and Medical Devices Regulatory Affairs (PMDA-ATC) Pharmacovigilance Seminar 2018 on February 5-8, 2018 as a Center of Excellence (CoE) Workshop in the Asia-Pacific Economic Cooperation, Life Sciences Innovation Forum, Regulatory Harmonization Steering Committee (APEC-LSIF-RHSC). This seminar was designed for regulatory officials in charge of pharmacovigilance (PV) from overseas regulatory authorities. Total of 29 regulators from 17 economies (Azerbaijan, Bangladesh, Chile, China, Ethiopia, Hong Kong, India, Indonesia, Malaysia, Myanmar, Nigeria, Papua New Guinea, Philippines, South Korea, Sri Lanka, Taiwan and Thailand) joined the seminar.

The seminar opened with remarks by Dr. Tatsuya Kondo, Chief Executive, followed by the message from Dr. Emiko Kondo, International Senior Training Coordinator as well as Office Director of Office of Safety II. Subsequent lectures and group works were provided by the staff members from PMDA, U.S.FDA, Japan Pharmaceutical Manufacturers Association (JPMA) and academic institutions. The topics discussed included the overview of PV, PV system in the U.S./EU/Japan, Labeling, Risk Evaluation and Mitigation Strategy (REMS)/ Elements To Assure Safety Use (ETASU), Risk Management Plan (RMP) and its elements, i.e., safety specifications, pharmacovigilance plan and risk minimization action plan, International safety data collection, Pharmacoepidemiology, Risk communication and Relief system for adverse health effects. In addition, group works were actively conducted with case studies using the mock data for discussion on safety specifications and risk minimization action plan. The participants actively engaged in discussions throughout the seminar and provided the pharmacovigilance legislation of their own economies (see agenda for details).

In total, more than 20 trainers, including 7 staff members from PMDA, contributed to the lectures and case studies.
On the final day of the seminar, the Course completion certificates were handed to each participant by Dr. Tatsuya Kondo.

Photos and participant comments
<Lectures>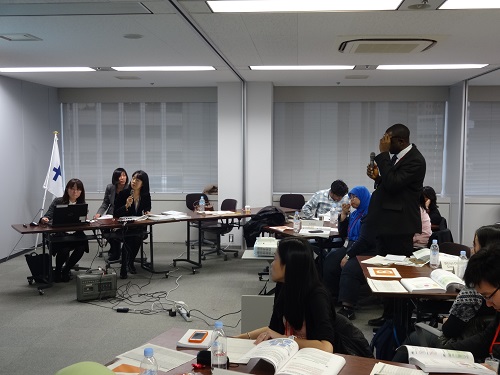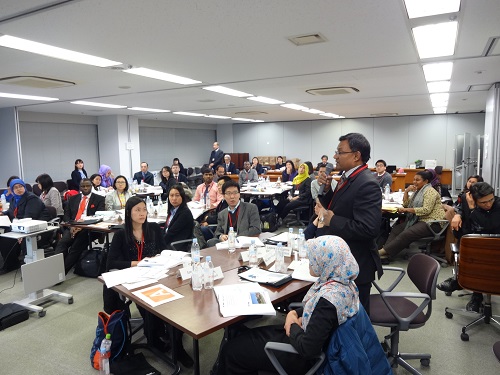 Comments from participants:

For the session on labeling:
"I particularly appreciate the Japanese system because it provides a summarized needed information for very busy physicians; because it is summarized, it is attractive for them to read."

For the session on REMS/ETASU:
"Very good speaker. He give us, key message and give us the topic that is necessary improve or know more in risk evaluation and mitigation strategy."

For the session on Safety Specification and Pharmacovigilance Plan:
"Provided detailed and thorough explanation on the safety specification and pharmacovigilance activities. Also provided clear explanation on the link of safety specification with the risk minimization and other pharmacovigilance activities."

For the session on Pharmacoepidemiology:
"As an important tool in the pharmacoepidemiological study, the lecture let me to understand how PMDA uses database."

For the session on Benefit-Risk Assessment:
"I have learned here that collaboration with MAHs on Benefit-Risk assessment is necessary for the benefit of and safety of patients."

For the session on Risk Communication
"State the importance of cooperation between PMDA and HCPs in PV."

For the session on Relief System:
"Relief system is unique of Japan, which supports patients promptly relief whose suffering from adverse drug reactions. It's a very good policy. I think the system shall be expanded to the other country."

<Case studies>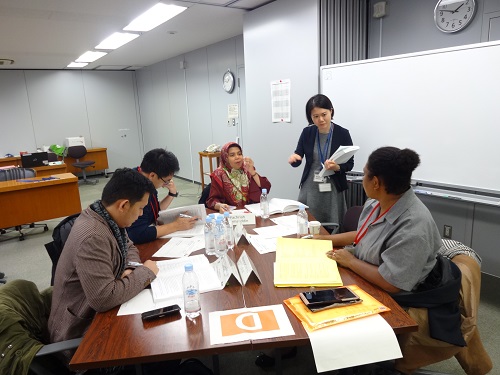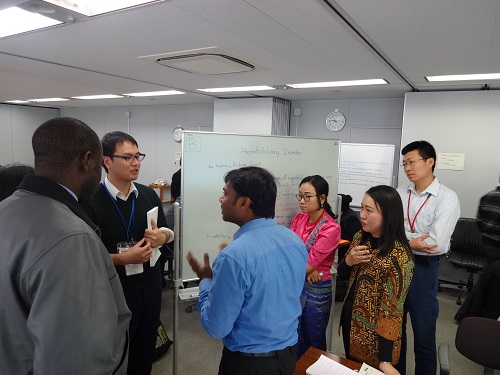 Comments from participants:

"This session is very interactive. All the participants were able to give their views and opinions. I appreciated all their hard works. We got some ideas that we can adapt in our Regulatory Agency."

"Very important for capacity building of pharmacovigilance practitioners. I hope employ this lecture to upgrade the knowledge of my colleagues first before others. "

"Very interesting discussion about risk minimization plan. I get much knowledge from this discussion. I will share my knowledge with other regulators to establish PV centre in my country."

"Through discussion and introduction of each group, all of us achieve the most value experience, improve our knowledge. A very nice process."

<Group photo>
Overall comments from the participants
Comments from participants:

"The seminar overall is excellent. It provided a very comprehensive and detailed information, concept and principle about Pharmacovigilance activities including RMP and Risk minimization, as well as provided a very good discussion forum to share knowledge and experiences among participants' countries, PMDA & USFDA and also pharmaceuticals companies. It provided a very good case study for working group workshop."

"I found the seminar very very interesting and give me a broad view of pharmacovigilance in Japan and also another countries. This seminar is one of the best that I've attended. Thank you very much. Arigato gozaimasu."

"The seminar is very important and it is my first time to take this kind of seminar in my pharmacovigilance experience. In addition it creates opportunity to interact with other countries."

"The seminar gave important information for PV system to establish in my country. The lectures are very comprehensive. I am very appreciative for our excelled well-organized seminar."


PMDA-ATC Seminars are held periodically, with a different theme for each seminar.
The Seminar announcements are posted on this website.

For any questions regarding PMDA Training Seminar, please contact us by clicking on the "Contact us" logo on top of the website, or please contact the Secretariat (e-mail: PMDA-ATC●pmda.go.jp).

Note: For the purpose of security, @ in the e-mail address is replaced with ●. Please replace ● with @ when you send an e-mail.