Here begins the text.
PMDA-ATC Pharmaceuticals Review Seminar 2018
Pharmaceuticals and Medical Devices Agency (PMDA) recently completed the PMDA-Asia Training Center for Pharmaceuticals and Medical Devices Regulatory Affairs (PMDA-ATC) Pharmaceuticals Review Seminar 2018 on June 18-22, 2018. This seminar was designed for Pharmaceuticals reviewers from overseas regulatory authorities. Total of 30 regulators from 16 countries/regions (Bangladesh, Bhutan, Brazil, Chile, Hong Kong, India, Indonesia, Lao PDR, Malaysia, Myanmar, Papua New Guinea, Philippines, Saudi Arabia, Sri Lanka, Thailand and Uganda) joined the seminar.

The seminar opened with remarks by Dr. Junko Sato, Office Director of Office of International Cooperation. Subsequent lectures and group works were provided by the staff members from PMDA and Japan Pharmaceutical Manufacturers Association (JPMA). The topics discussed included the consultation, clinical trials, toxicity, GCP / GLP inspection, review for regulatory approval (new drugs, generics, biosimilars) including CMC, post-marketing safety measures, relief service, and recent efforts of pharmaceutical regulation in Japan. In addition, group works were actively conducted with case studies using the mock data for discussion on generic products review. In Toyama, the manufacturing site tour to a plant of eye drop and a lecture on medicines approved by the prefectural governor by Toyama prefectural office member were conducted. The participants actively engaged in discussions throughout the seminar and provided the presentation on the pharmaceuticals review system of their own economies (see agenda for details).

In total, more than 17 trainers, including 4 staff members from PMDA, contributed to the lectures and case studies.
On the final day of the seminar, the Course completion certificates were handed to each participant by Dr. Tatsuya Kondo, Chief Executive.

Photos and participant comments
<Lectures>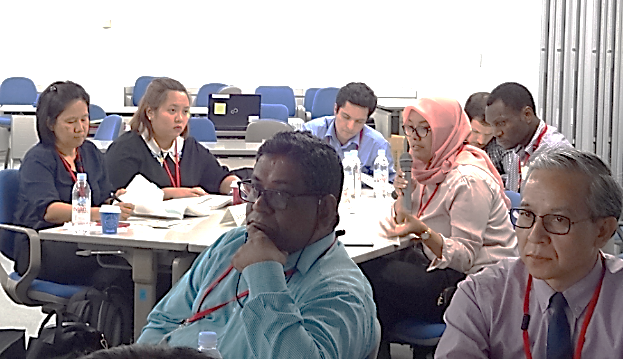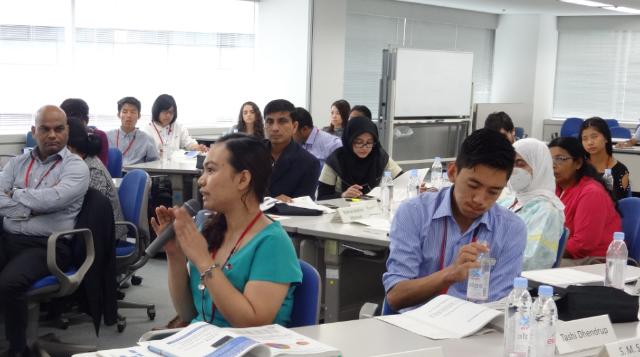 Comments from participants:
For the session on Outline of PMDA:
"Much impressed by the PMDA role for providing/insuring good quality medicines to its citizens by adopting three pronged triangle approach."

For the session on Clinical Trial to NDA/MAA:
"The important message here is the consultation. With the consultation the applicant improve the document to be submitted and make easier for review the document."

For the session on Toxicology studies, GLP, FIH studies:
"I learn how toxicity data is reviewed in NDA/ IND, how does selection for first-in-human trials… and GLP."

For the session on GCP Inspections:
"Very informative and well-structured with good examples of the findings. Speakers are experienced and can answer our questions in great details."

For the session on Review of New Drugs:
"Very well delivered and very in-depth, insights that set us to now register new medicine. Especially the assessment of safety and efficacy in clinical trial is now clear and make a lot of sense."

For the session on Review of Generic Drugs:
"This session was excellent and very applicable to our regular work."

For the session on Review of Biosimilars:
"From her presentation I know the process for biosimilars review in Japan and know the general principles for evaluating"

For the session on Post-marketing Pharmacovigilance:
"It was good lecture and could improve my knowledge about PV.
I hope that in my country also can adopt the system to improve and strengthen our regulations"

For the session on Relief Service:
"Relief Services session was really inspiring, it is an important function of PMDA. Japan gives an example of really taking care of population."

For the session on Current Effort by PMDA:
"Awesome! Learn more about the facilitated regulatory pathways, manly the Sakigake approach, was a good opportunity to compare with ours facilitated pathways and maybe improve them in our countries"

For the session on CMC:
"The presenter reminding me about QbD is essential in drug development because there is so many benefits. For example if QbD implemented by the company it can minimize post approval change registration."

<Case studies>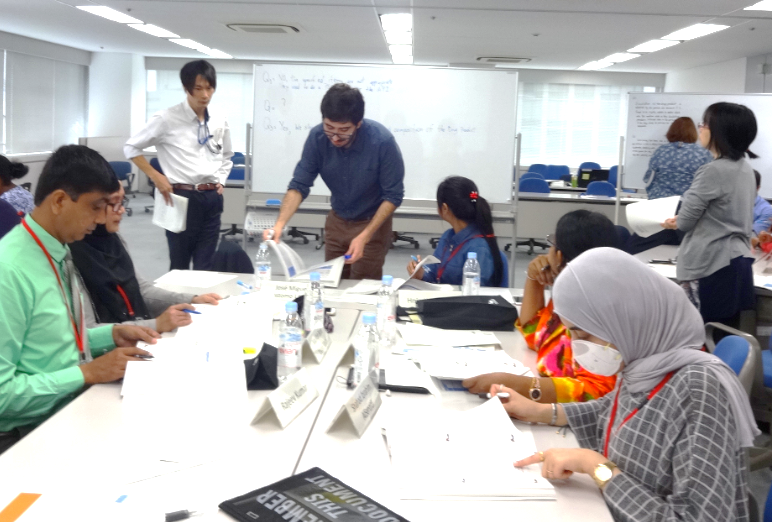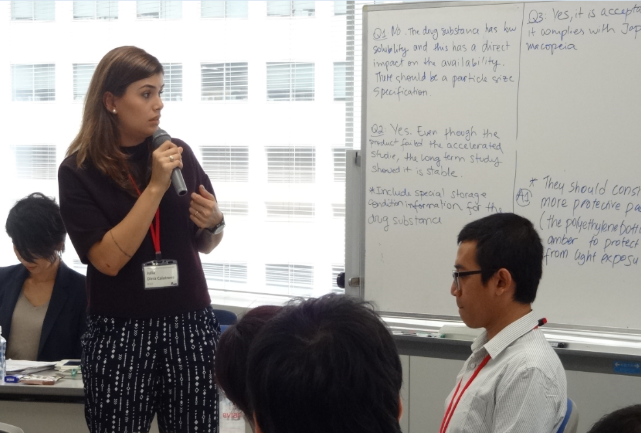 Comments from participants:
"The modules was a great experience for us to discover how each NRA evaluate a product dossier. Through the discussion on the case study, we were able to come up with a common decision while sharing how our respective NRAs evaluate an application."

"The cases given are very interesting to discuss and the discussions made give me new perspective in evaluation generic drugs "

"A good practical session. I think it will make our review work more reliable and efficient."

"During the discussion, we have a chance to share some experience and knowledge to other participant. It's very useful and can apply in my job about related a topic."
<Group photo>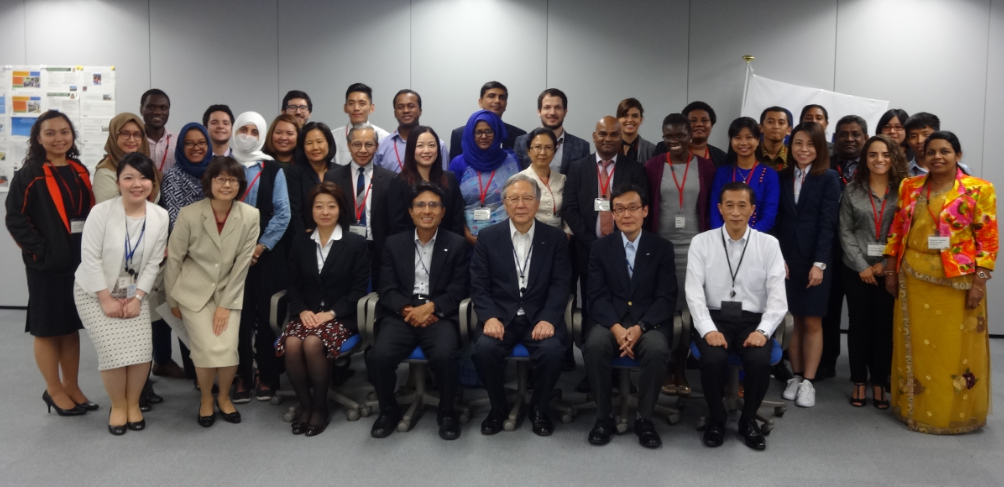 Overall comments from the participants
"The seminar was very informative and practical. We have learned many new issues like Relief services, etc. There are some issues we are not implementing in our country, so, after the seminar we will share those to our authority and will try to implement those."

"In general terms the seminar was really great, we learn a lot about Japanese regulation, learn new things that I didn't know and I was able to compare the quality of my country with others."

"This seminar is useful for us. There are other NRA from many region, so we can learn from each other and can share experience together."

"The seminar was very good. It was well organized and covered many key areas critical to our daily work.
I appreciate the facilitators who were good and very knowledgeable, and took all effort to ensure concepts were communicated despite some difficulty with English."


PMDA-ATC Seminars are held periodically, with a different theme for each seminar.
The Seminar announcements are posted on this website.

For any questions regarding PMDA Training Seminar, please contact us by clicking on the "Contact us" logo on top of the website, or please contact the Secretariat (e-mail: PMDA-ATC●pmda.go.jp).

Note: For the purpose of security, @ in the e-mail address is replaced with ●. Please replace ● with @ when you send an e-mail.