Here begins the text.
PMDA-ATC Quality Control (Herbal Medicine) Seminar 2018
Pharmaceuticals and Medical Devices Agency (PMDA) recently completed the PMDA-Asia Training Center for Pharmaceuticals and Medical Devices Regulatory Affairs (PMDA-ATC) Quality Control (Herbal Medicine) Seminar 2018 on October 22 - 24, 2018 in Toyama. This seminar was designed for pharmaceuticals reviewers from overseas regulatory authorities. Total of 15 regulators from 14 countries/regions (Azerbaijan, Brazil, India, Malaysia, Nepal, Nigeria, Papua New Guinea, Singapore, South Africa, Sri Lanka, Taiwan, Tanzania, Thailand and Uganda) joined the seminar.

The seminar opened with remarks by Dr. Yoshikazu Hayashi, Director of Office of Asia Training Center for Pharmaceuticals and Medical Devices Regulatory Affairs and Mr. Tomonori Shiokawa, Director, Pharmaceutical Dvision Policy, Health and Welfare Department, Toyama Prefecture Subsequent lectures and group works were provided by the staff from PMDA, Toyama prefecture, representatives from Institute of Natural Medicine of Toyama University, National Institute of Health Sciences, and the Federation of Pharmaceutical Manufacturers' Associations of Japan (FPMAJ). The topics discussed included the outline of PMDA/regulation of traditional herbal medicinal products in Japan, drugs approved in prefectural government, current state of Japanese traditional medicine, forefront of herbal medicine in modern medical care, quality evaluation, JP and non-JP standard for crude drugs, standard/guidelines for marketing approval for crude drugs/Kampo, quality management/manufacturing management of herbal medicine. In addition, site tour to a manufacturer of herbal medicine extract and dissolution test practice at Toyama prefectural Institute for Pharmaceutical Research were conducted. The participants actively engaged in discussions throughout the seminar and provided the presentation on the herbal medicine of their own countries (see agenda for details).

On the final day of the seminar, the course completion certificates were handed to each participant by Ms. Akiko Ogata, Deputy Director of International Cooperation Office.

Photos and participant comments
<Lectures>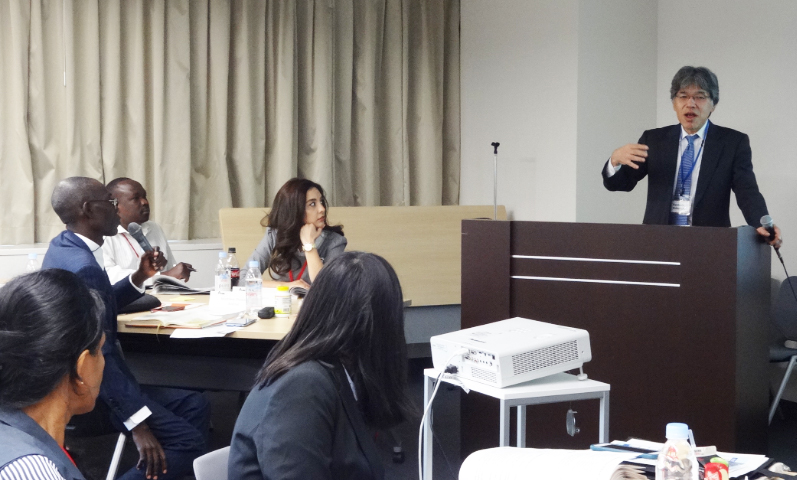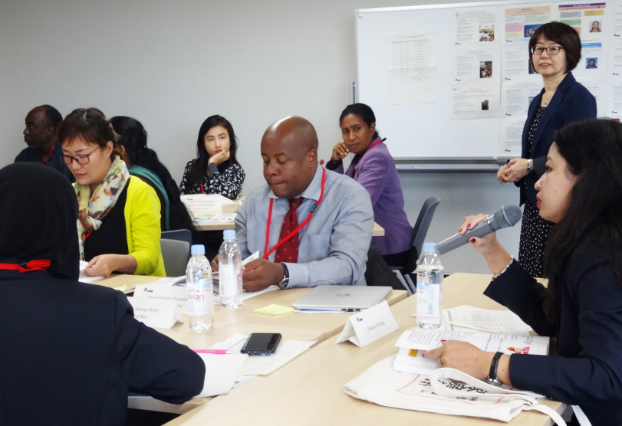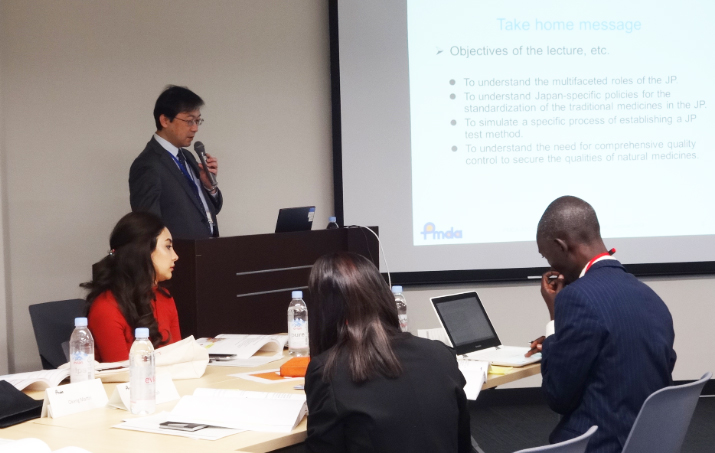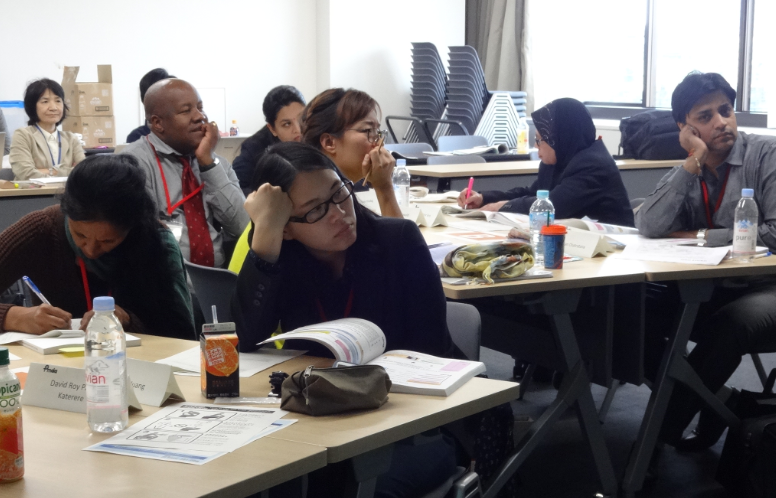 Comments from participants:
For the session on Outline of PMDA, Regulation of Traditional Herbal Medicinal Products in Japan:
"A very specific, descriptive lecture which deepen my understanding on the whole regulatory system of Japan, PMDA."

For the session on Current State of Japanese Traditional Medicine:
"Through this seminar, to know the Kampo medicine and it's interested about the Yin, Yang, Ki. As well as understand the current state of Japanese traditional medicine. "

For the session on Forefront of Herbal Medicine in Modern Medical Care:
"Very informative. Great insight in translational research gained."

For the session on Drugs Approved by the Toyama Prefectural Government:
"Very good presentation. We had a good idea on Kampo medicines and things generally applied to the GMP inspections. The lecture was very closer to us because something in general applied to our country, too."

For the session on Japanese Pharmacopoeia, Japanese Standard for Non- Pharmacopoeial Crude Drugs:
"Composition of Japanese Pharmacopeia was the most interesting part of this lecture for me. This lecture have met all my expectations about it."

For the session on Standard and Guidelines for Crude Drugs/ Kampo Medicine Marketing Approval:
"Presentation is well organized and structure can be easily followed. Great explanation using examples and tables, eg. Western herbs as OTC drugs."

For the session on Quality Evaluation of Crude Drugs (herbal Medicine):
"A very detailed, informative and specific lecture that covered by the subject well. Very interesting lecture."

For the session on Quality Management and Manufacturing Management:
"The slide shows the detail about the quality management and manufacturing management. Thanks for giving these information."

<Manufacturing Site Tour>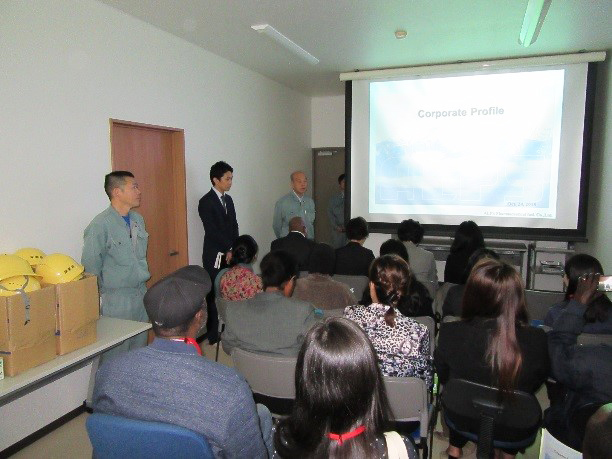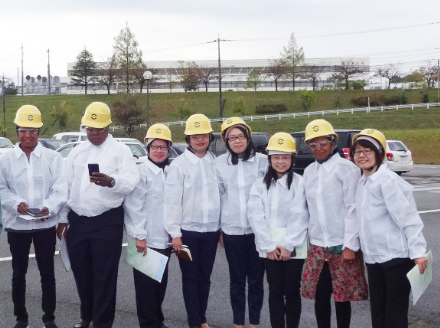 Comments from participants:
"I'm happy to get that much information about manufacture process in Japan. The chance to see their laboratorial equipment was amazing. Thank you."

"Really enjoyed the tour around the plant. The staff have presented well and they are very knowledgeable in the area of work they're doing."

<Dissolution Test Practice>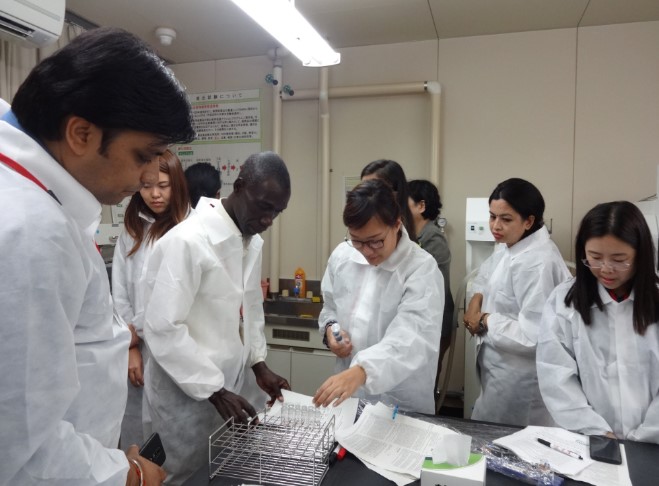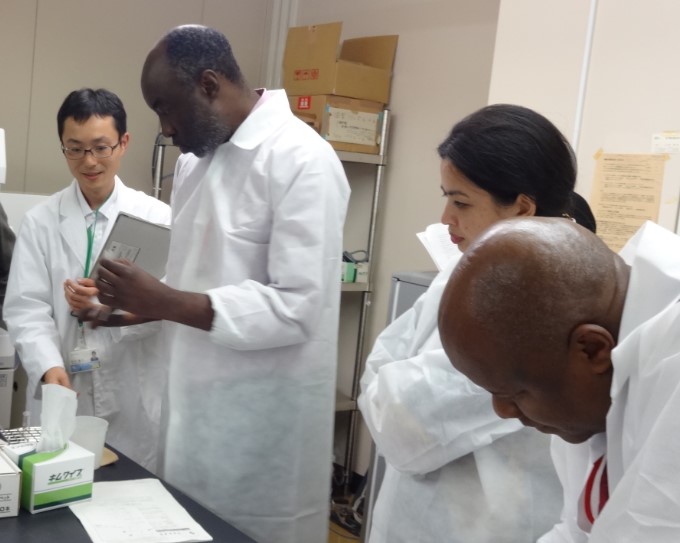 Comments from participants:
"I have tried to take samples during dissolution test. It was amazing experience. I loved this part of seminar more because it's always better to see and try. I'm sure I will never forget how to do it."

"Very useful practical session in well sophisticated lab. Cell separate machine was very interesting case for biological products. The automatic dissolution machine was also interesting. The support given by the research center is appreciated. Thank you very much for giving us a practical session, too."

<Group photo>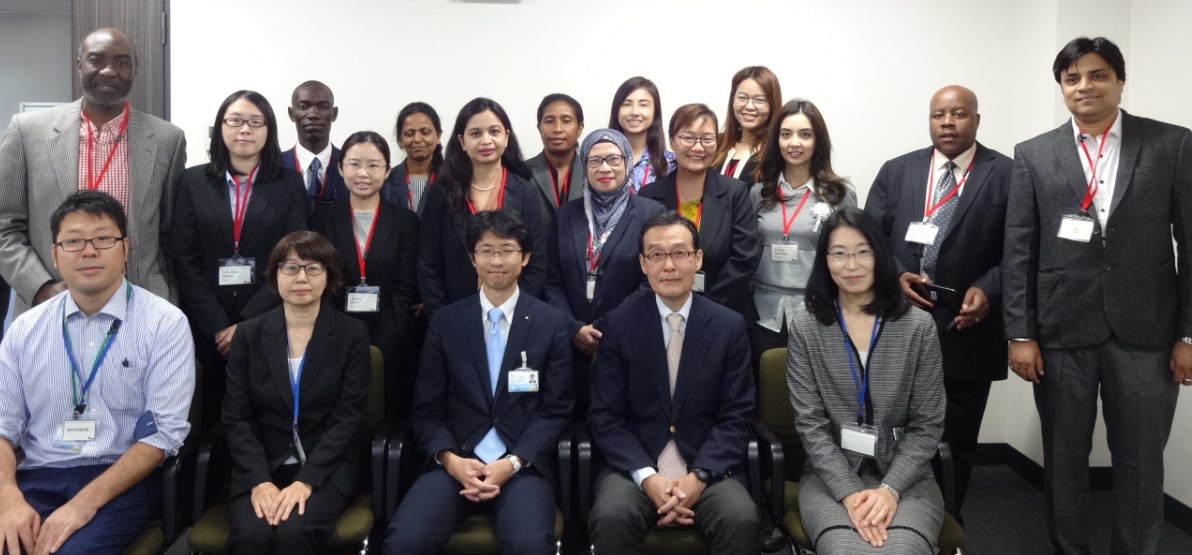 Overall comments from the participants
"The seminar was very informative, interesting and helpful to me. It provides a deep understanding on the review of herbal medicine and how the traditional/herbal medicine can be considered for approval depending on case by case of product by product. Very enriching seminar. Thank you PMDA-ATC."

"It was very well-organized and I learnt a lot of new and important information which I will share with colleagues."

"It is excellent presentation and thanks to speaker who has simplified the things and make me understand."

"Actually, this seminar was really enlighten my career as a pharmacist. This is the very first time I was in a crude drug manufacturing site. I learnt a lot on crude drug manufacturing and API manufacturing practically which I have never exposed for such previously. The overall program was very practical and very advanced. Again this has improved my career life much as a regulatory pharmacist."

"Very useful seminar. The visit to the research lab. And plant are interesting and enriching. Hope to learn more from Japan in future. It will be better if there are follow-up and more in-depth lectures in future seminars."

PMDA-ATC Seminars are held periodically, with a different theme for each seminar.
The Seminar announcements are posted on this website.

For any questions regarding PMDA Training Seminar, please contact us by clicking on the "Contact us" logo on top of the website, or please contact the Secretariat (e-mail: PMDA-ATC●pmda.go.jp).

Note: For the purpose of security, @ in the e-mail address is replaced with ●. Please replace ● with @ when you send an e-mail.