Here begins the text.
PMDA-ATC Pharmaceuticals Review Seminar 2019 in Jakarta, Indonesia
Pharmaceuticals and Medical Devices Agency (PMDA) recently completed the PMDA-Asia Training Center for Pharmaceuticals and Medical Devices Regulatory Affairs (PMDA-ATC) Pharmaceuticals Review Seminar 2019 in Jakarta, Indonesia on January 28 -31, 2019. This seminar was designed for regulators from National Agency of Drug and Food Control (Badan Pengawas Obat dan Makanan: BPOM). Total of 48 regulators from BPOM (19central and 29 local) joined the seminar.

The seminar opened with remarks by Dr. Eriko Fukuda (Director of International Cooperation, PMDA), Mr. Masahiko Yokota (Chief Adviser, JICA) and Ms. Reri Indriani (Acting Deputy Chairperson of Drug, Narcotics, Psychotropics, Precursor and Addictive Substances Control, BPOM). Subsequent lectures and group works were provided by the staff members from PMDA on the topics including the consultation, clinical trials, toxicity, GCP / GLP inspection, review for regulatory approval (new drugs, generics, biosimilars), post-marketing safety measures, relief service, recent efforts of pharmaceutical regulation in Japan, CMC as well as a lecture on CMC by an expert dispatched by the Japan Pharmaceutical Manufacturers Association (JPMA) from the industrial view.

In sessions on GCP/GLP inspection, review for regulatory approval (new drugs and generics) and post-marketing safety measures, there were bridging sessions where experts from BPOM made basic lectures on regulations in Indonesia and global harmonization as an introduction of lectures by PMDA. Besides the lectures, case studies of reviewing generic products were conducted (see agenda for details).

In total, 12 trainers, including 11staff members from PMDA, contributed to the lectures and case studies.
On the final day of the seminar, the Course completion certificates were handed to each participant by Dr. Eriko Fukuda (Director of International Cooperation, PMDA), Ms. Ratna Irawati (Director of Distribution and Service Control of Drug, Narcotics, Psychotropics and Precursor, BPOM) and Mr. Masahiko Yokota (Chief Adviser, JICA).
Photos and participant comments
<Lectures>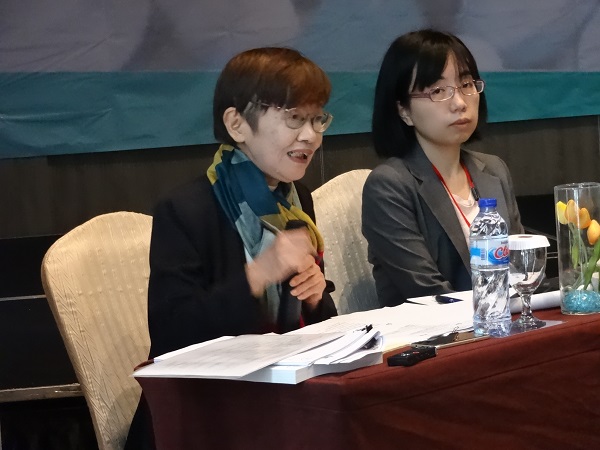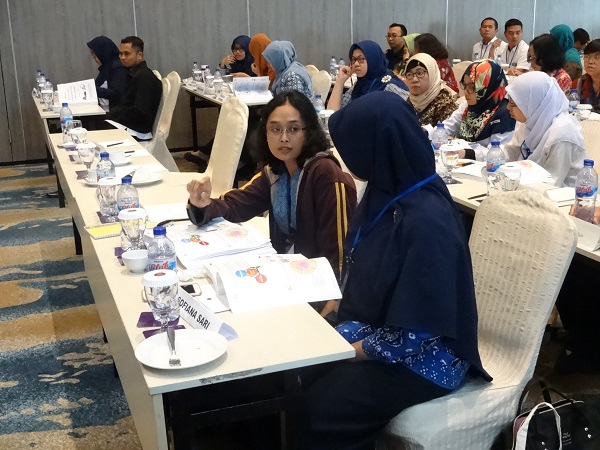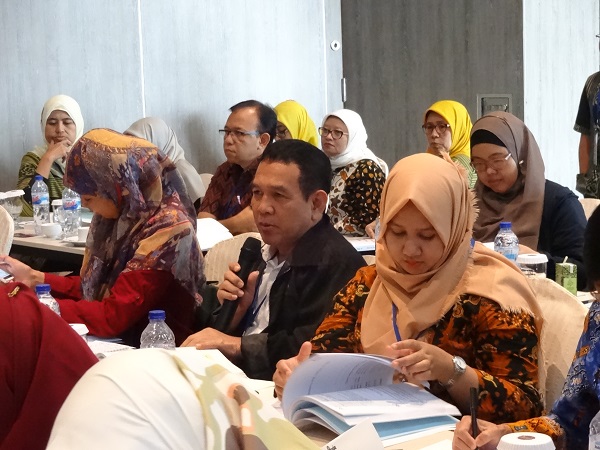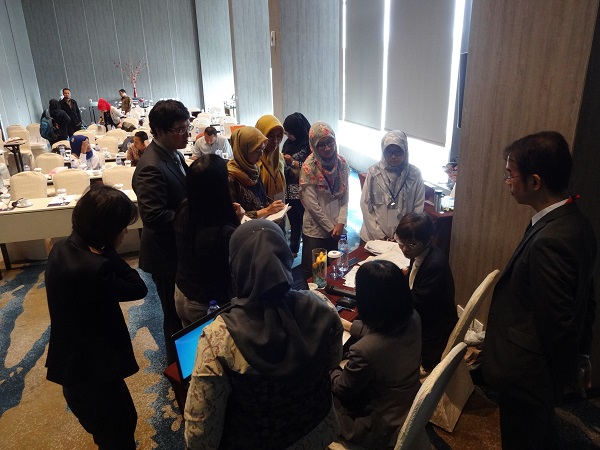 Comments from participants:
For the session on Introduction of PMDA:
"I think PMDA gives us knowledge how to improve services, especially about timing for approval of the registration of drugs, i.e., making effective, efficient and faster. Three major system, Review, Safety and Relief is the best system that can adapt by us."

For the session on From Clinical Trial to Drug Review/ Approval in Japan:
"An interesting topic and make it clear how important this step in drug development process."

For the session on Relief Services:
"It's something new about Relief system. I think it's good to be applicable in Indonesia."

For the session on Toxicology Studies, GLP & FIH Trials:
"The material presented adds knowledge about toxicology including reviewing the toxicity data for new drugs, determination of initial dose in first in human trials (FIH) and GLP."

For the session on Clinical Trials & GCP Inspections:
"Interesting material, supervision of pre-market products through clinical trials. GCP is new knowledge for us so that is opens insight into aspects of GCP inspection and documents that accompany it."

For the session on Review of New Drug:
"Every review of new drug, we must pay attention for efficacy, safety, quality and data integrity.
External expert in review of new drugs is important to give independent review/advice for making decision."

For the session on Review of Biosimilars:
"Interesting and prospectively to expand in Indonesia. Because Indonesia have bio-farms that produce vaccine."

For the session on Review of Generic Drug:
"Very appreciate to speaker and team. Although the time for asking question is up, the speaker and team still answer my question in front of class. The session is interesting make me know many differentiation registration between Indonesia and Japan."

For the session on Current Efforts on CMC:
"The presentation content gives us new knowledge how to inspect quality of product in industry. This topic gives us information how to guarantee the quality of product."

"I get information about QBD (Quality by Design) and RTRT (Real Time Release Testing), the new things, previously I only know the conventional QC release."

For the session on Post-marketing Pharmacovigilance:
"The subject is new thing for me, and enhance my knowledge. Thank you. I hope the pharmacovigilance system in Japan can adopt in Indonesia."

For the session on Recent Challenge to Accelerate Drug Development in Japan:
"SAKIGAKE –designation looks so great to develop innovative drug in Japan."

"Good to know that your government grants some incentives for applicants who have design orphan products and PMDA provides "Regulatory Science Strategy Consultation."

<Bridging Sessions>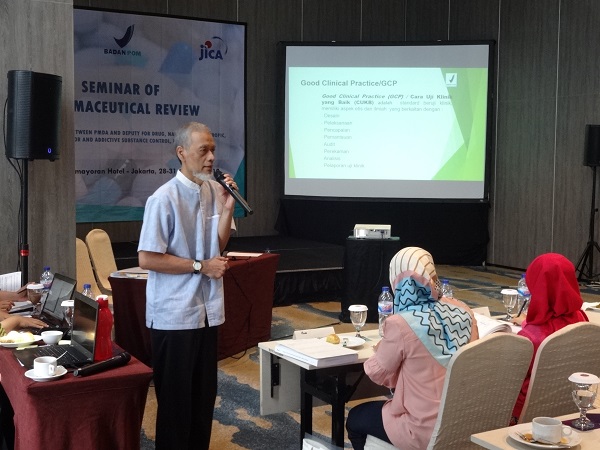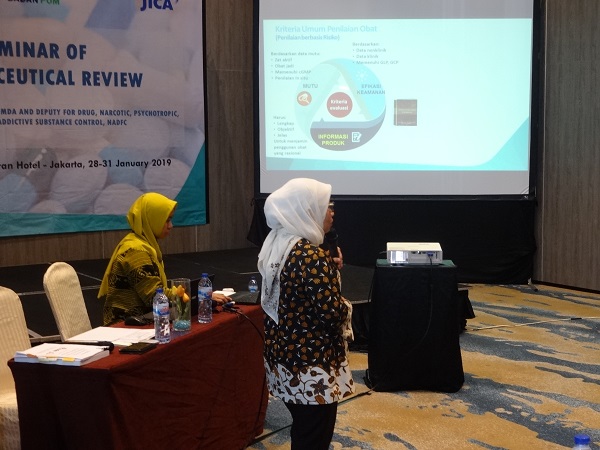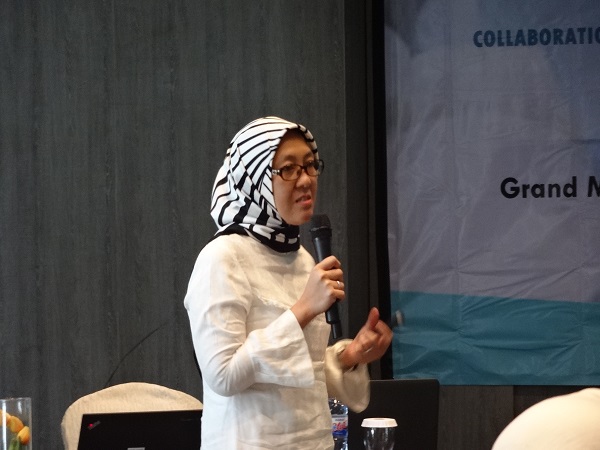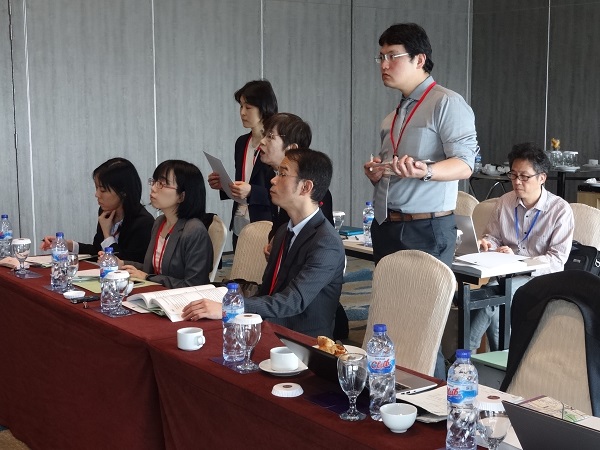 Comments from participants:
"Actually, we got valuable insight on "Review of Generic Drugs" both how it goes in Japan &Indonesia by bridging session. Very useful."

"Interesting discussion about license manufacture & license marketing authorization holder because the different system."

"By this presentation, I get new experience about PV in Japan. There were some differences between implementation in Japan and Indonesia."

<Case studies>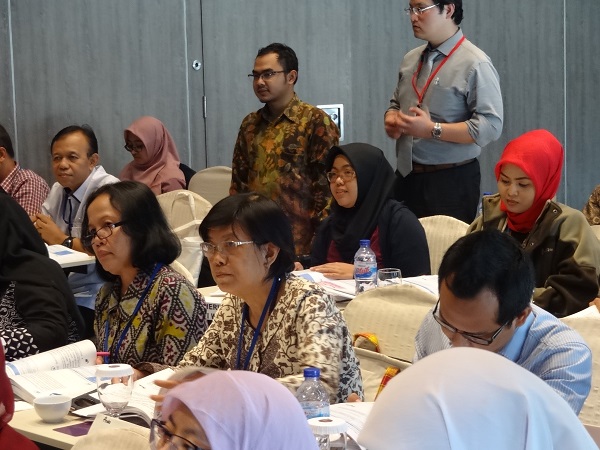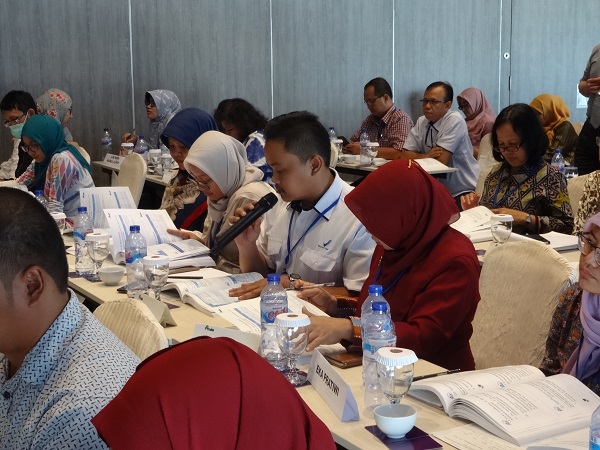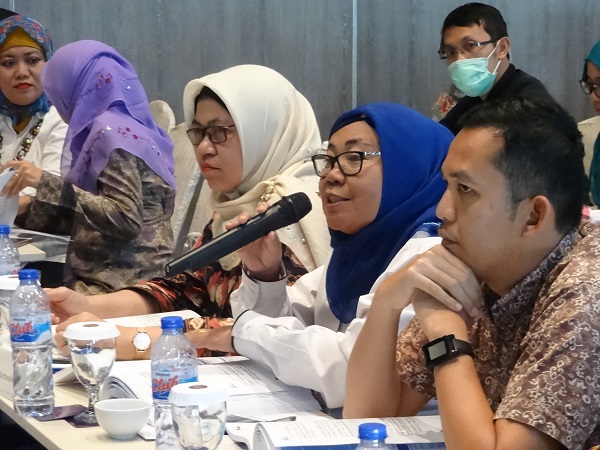 Comments from participants:
"It is interesting to review with case study. I hope more case study in the future since it really helpful to understand to identify critical point on review of generic drugs."

"The way to present the presentation material was excellent and the seminar participants were very active."

"The case studies presented are very useful, applied and can explore the ability to review generic drug registration documents. The speaker explained clearly, responded to the answers given by participants well and gave answers to the case studies."

"There are many points that we can compare between Indonesia and Japanese regulatory system for drugs. From this session participant got a lot of knowledge about drug regulation in Japan. Hope we can study from you and improve our capacity."

<Group photo>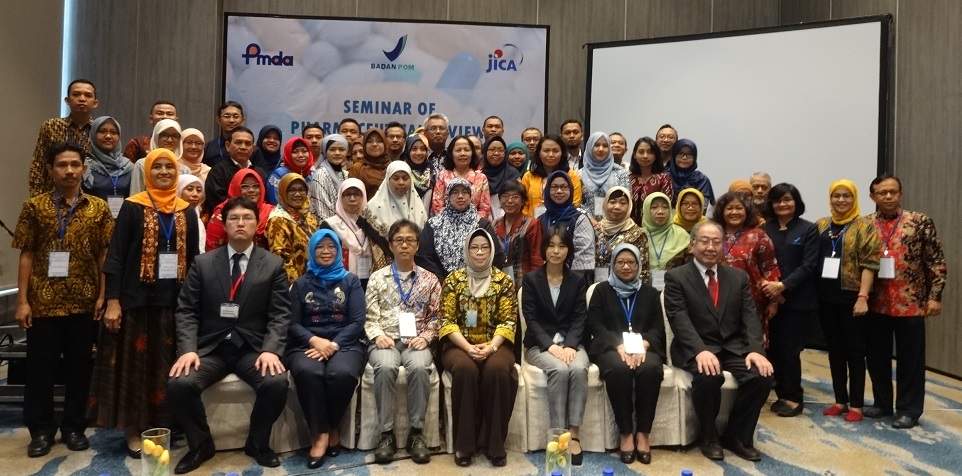 Overall comments from the participants
"The seminar gives us new knowledge to compare to our protocol, to improve our service and guarantee of safety, efficacy, and quality of the product (drugs)."

"This seminar provide us information / knowledge more than expected to support our daily task. If we understand 'pre market' control, we can do control post market better."

"The seminar is an eye opener for me. To learn and gain understand about many new topics is so much interesting. I hope there will be more frequent seminar in the future and the number of participants can increase in the future.

"In general, this seminar is very useful and it can improve my knowledge to inspect and review drug data."
Information about future PMDA-ATC Seminars
PMDA-ATC Seminars are held periodically, with a different theme for each seminar.
The Seminar announcements are posted on this website.

For any questions regarding PMDA Training Seminar, please contact us by clicking on the "Contact us" logo on top of the website, or please contact the Secretariat (e-mail: PMDA-ATC●pmda.go.jp).

Note: For the purpose of security, @ in the e-mail address is replaced with ●. Please replace ● with @ when you send an e-mail.