Here begins the text.
Report of the PMDA-ATC GMP Inspection Seminar 2019
PMDA-ATC GMP Inspection Seminar 2019
Pharmaceuticals and Medical Devices Agency (PMDA) recently completed PMDA-Asia Training Center for Pharmaceuticals and Medical Devices Regulatory Affairs (PMDA-ATC) GMP Inspection Seminar 2019 on November 12 to 15 at Toyama city, Toyama prefecture with cooperation by Pharmaceutical Inspection Co-operation Scheme (PIC/S). This seminar was designed for GMP inspectors from overseas regulatory authorities. The purpose of this seminar was to learn the international harmonization in the Good Manufacturing Practice (GMP) inspection. This seminar was composed of PMDA-ATC original session and the 2019 PIC/S seminar on "Quality Assurance of Sterile Medicinal Products" (the PIC/S Seminar 2019) hosted by MHLW/PMDA. Total of 6 inspectors from 5 countries/regions (Azerbaijan, Brazil, Malaysia, Philippines and Taiwan) joined the seminar.

The seminar was opened with a welcome speech by Dr. Eriko Fukuda, Office Director of Office of International Cooperation. In the PMDA-ATC original session, on Day 1, PMDA staff gave a lecture on the outline of PMDA and introduction of PIC/S activities, and Toyama prefectural office staff gave a lecture on the GMP compliance inspection. On Day 4, the comprehensive discussion including the introduction of GMP inspection system from each participant's regulatory agency was held. In the PIC/S Seminar 2019 from Day 2 to 4, the participants learned aboout the quality assurance of sterile medicinal products from lectures which feature in the PIC/S GMP Guide Annex 1 and group works on mock on-site and off-site inspection for sterile medicinal products utilizing video movie provided by manufaturing sites (see agenda for details). The participants actively and enthusiastically engaged in discussions throughout the seminar.
At the end of the seminar, the course completion certificates were handed to each participant by Dr. Shingou Sakurai, Senior Director for Manufacturing/Quality and Compliance, PMDA.
Photos and participant comments
<Lectures by PMDA staff members>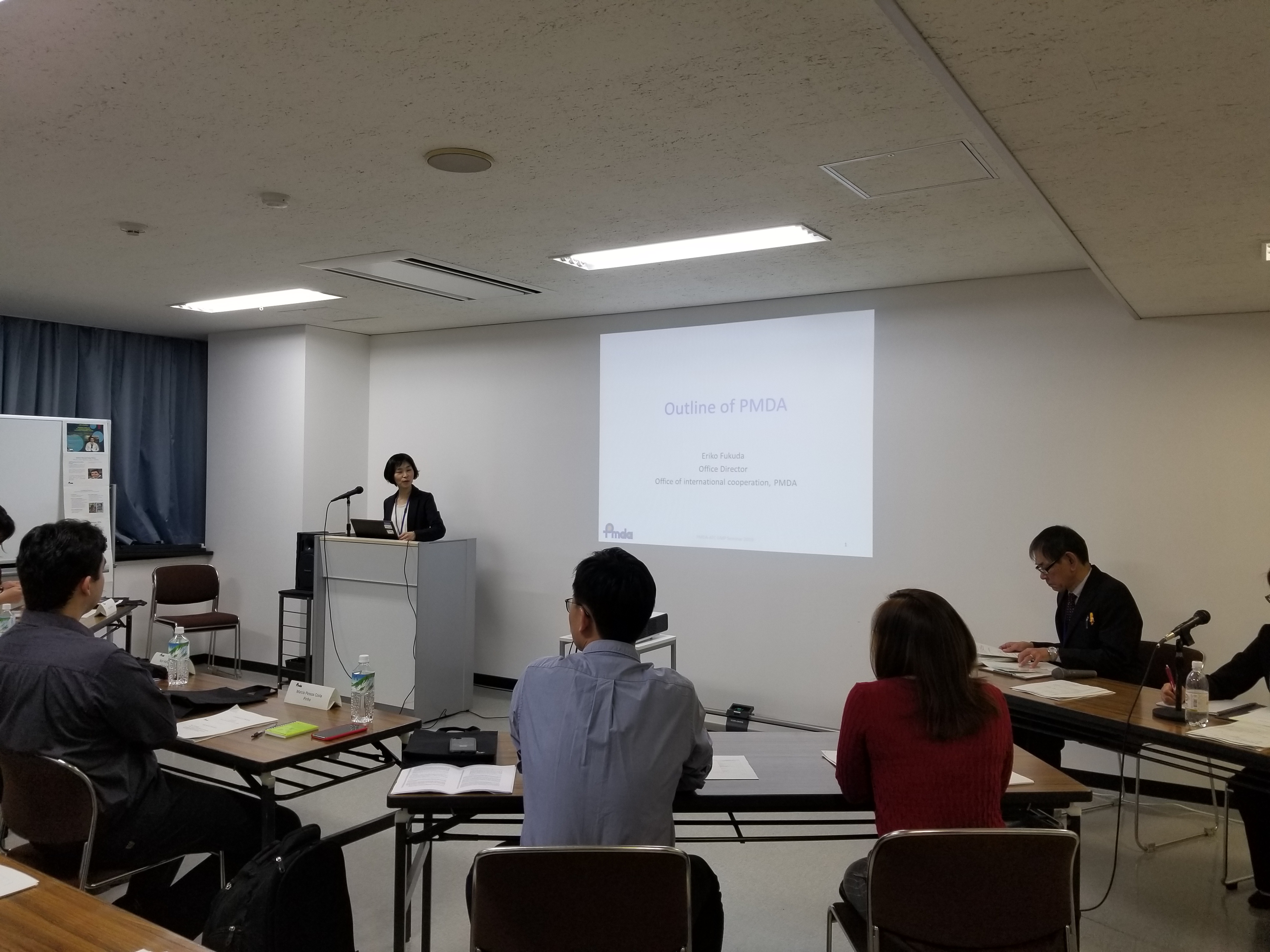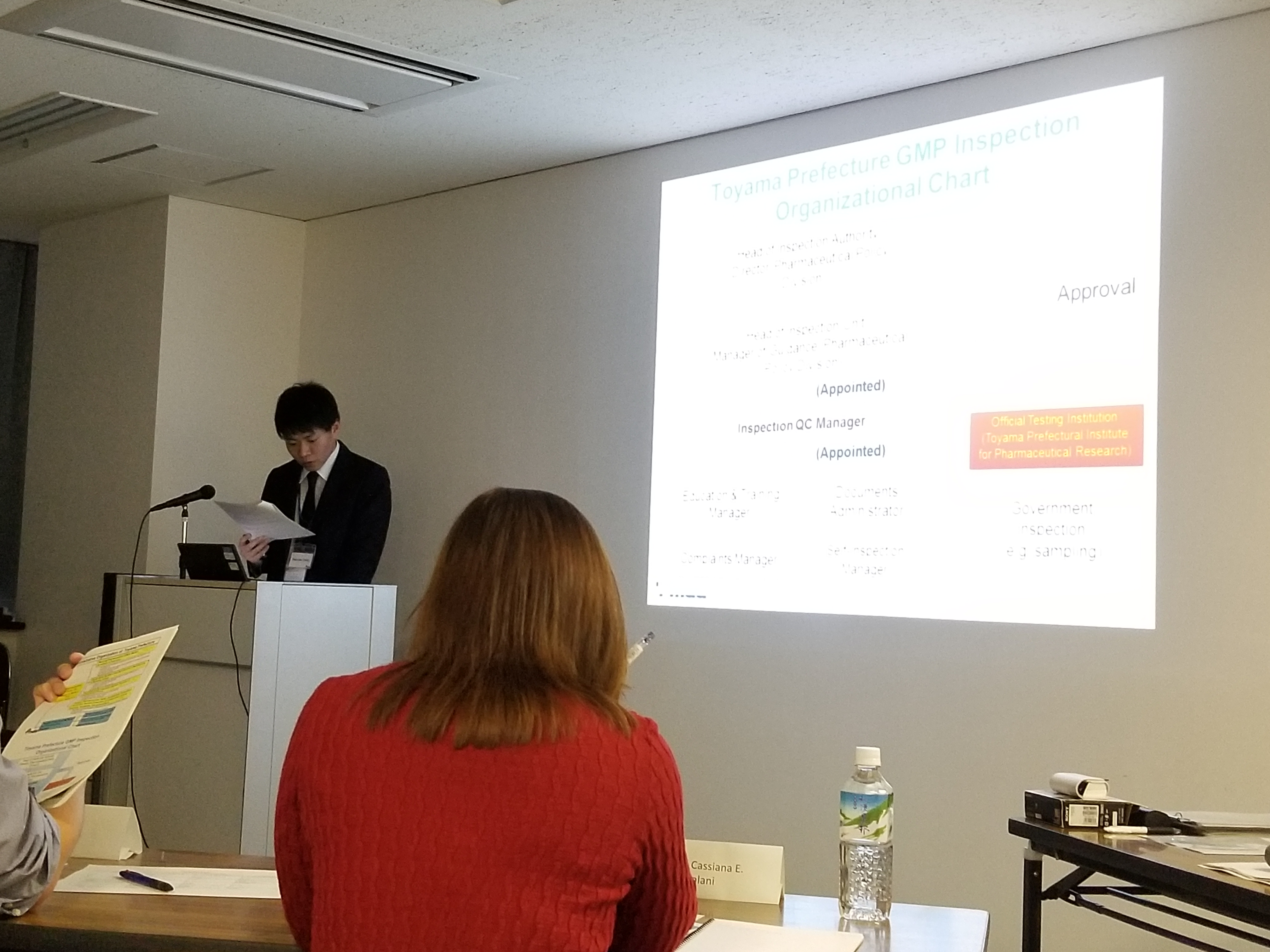 Comments from the participants:
"The introduction is very detailed. And it actually helps me to understand the job of PMDA."

"I found the process of analysis of prefecture of Toyama very interesting. I found the process quite organized and effective."

"Very clear and understandable. I could understand how works the process of make a PIC/S new guideline."

"The introduction gave us a background of each participant's national regulatory authority. It will especially be helpful, if there will be foreign audits."
Overall comments from the participants
"I think that the seminar was quite complete and could cover all principal points of sterile main-factors. All the teachers are pretty competent and well experienced. "

"The seminar was very helpful since it was in conjunction with the PIC/S seminar, we are able to discuss our views on inspection with other national regulatory authorities. The workshop was great, too. It gave a way to many discussions and exchange of information. Thank you for providing / organizing a very great seminar."
Information about PIC/S Seminar 2019
View details on the following website:
https://www.picscheme.org/en/news
Information about future PMDA-ATC Seminars
PMDA-ATC Seminars are held periodically, with a different theme for each seminar.
The Seminar announcements are posted on this website.

For any questions regarding PMDA-ATC Seminar, please contact us by clicking on the "Contact us" logo on top of the website, or please contact the Secretariat (e-mail: PMDA-ATC●pmda.go.jp).

Note: For the purpose of security, @ in the e-mail address is replaced with ●. Please replace ● with @ when you send an e-mail.