Here begins the text.
PMDA-ATC Pharmacovigilance Seminar 2020
Pharmaceuticals and Medical Devices Agency (PMDA) recently completed the PMDA-Asia Training Center for Pharmaceuticals and Medical Devices Regulatory Affairs (PMDA-ATC) Pharmacovigilance Seminar 2020 on February 3-6, 2020 as a Center of Excellence (CoE) Workshop in the Asia-Pacific Economic Cooperation, Life Sciences Innovation Forum, Regulatory Harmonization Steering Committee (APEC-LSIF-RHSC). This seminar was designed for regulatory officials in charge of pharmacovigilance (PV) from overseas regulatory authorities. Total of 25 regulators from 15 economies (Azerbaijan, Cambodia, Hong Kong, India, Indonesia, Laos, Malaysia, Maldives, Myanmar, Nepal, Philippines, Russia, Taiwan, Thailand and Uganda) joined the seminar.

The seminar opened with remarks by Dr. Yoshikazu Hayashi, Senior Executive Director as well as Director of PMDA-ATC, followed by the message from Dr. Nobumasa Nakashima, Associate Executive Director (for International Programs). Subsequent lectures and group works were provided by the staff members from PMDA, U.S.FDA, Japan Pharmaceutical Manufacturers Association (JPMA) and academic institutions. The topics discussed included comparison of PV systems among the US, EU and Japan and International Cooperation, Labeling Management, Risk Management Plan (RMP), Evaluation of Benefit/Risk Balance, Pharmacoepidemiology, Healthcare Professionals Involvement, Relief System for Adverse Drug Reaction, etc. In addition, group works were actively conducted with case studies using the mock data for discussion on safety specifications and risk minimization activity. The participants actively engaged in discussions throughout the seminar and provided the pharmacovigilance legislations and requirements of their own economies which were summarized and shared among participant (see agenda for details).

In total, more than 30 trainers, including 12 staff members from PMDA, contributed to the lectures and case studies.
On the final day of the seminar, the course completion certificates were handed to each participant by Dr. Yasuhiro Fujiwara, Chief Executive of PMDA.

Photos and participant comments
<Lectures>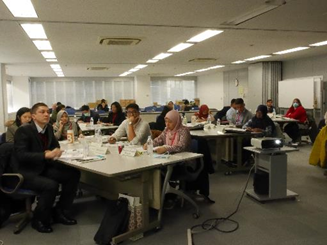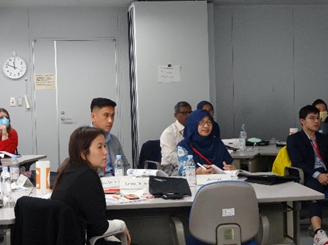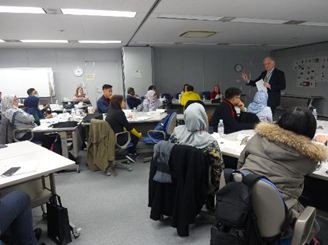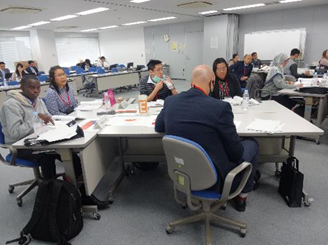 Comments from participants:
For the session on Comparison of PV Systems among the US, EU and Japan and International Cooperation:
"That was great experience to hear from experts what is the trending in pharmacovigilance field. Comparison between leading regulatory authorities also help easily understand harmonization process."

For the session on Labeling Management:
"The session provided a good understanding of the overall labeling system and helped me appreciate the different labeling requirements in different countries. It is important to harmonize the labeling system across different regions."

For the session on RMP:
"Very good presentation about J-RMP, CCDS (Company Core Data Sheet) comparative analysis of EU, USA, Japan requirements for RMP."

For the session on Evaluation of Benefit/Risk Balance:
"The session provided a detailed understanding of evaluation of benefit/risk balance and the matrices used by different countries to evaluate."

For the session on Pharmacovigilance and Pharmacoepidemiology:
"It was wonderful to have such a globally popular topic. I learned a lot about signal detection procedure, metastatic analysis and which tools are used in Japan."

For the session on Healthcare Professionals Involvement:
"The survey conducted give a good overview of reporting experiences from Healthcare Professionals (HCPs). The strategies to improve reporting as identified in this session are a key aspect to involve HCPs."

"In this session for use "the effective of additional risk minimization activity materials for patients (ex. Medication Guide) specified in RMP" part was very useful and interesting."

For the session on Relief System for Adverse Drug Reaction:
"I think this relief system is essential for patients who suffer damages in their health by ADR although I have no experience about this system."
<Case study>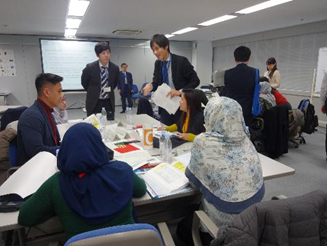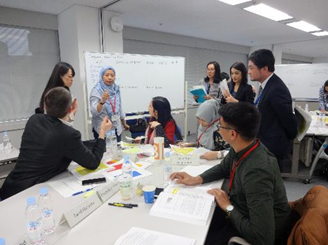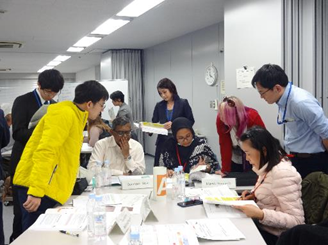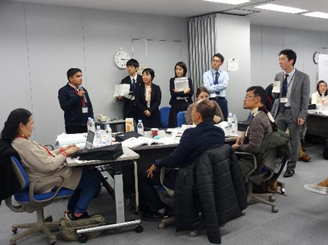 Comments from the participants:
"Well arranged with many critical details for creation of RMP for a "New-drug" which is proposed for market authorization."

"It is very important to seek opinions from different people before coming to a conclusion. The discussion was therefore very helpful in stimulating thinking among colleagues."

"Hands-on practice is very important to review our learned knowledge. By participating such kind of workshops like this one helps us to clarify and fix our mistakes that we were doing before. Very fruitful practical part of our training."

"It was a good experience to use the theoretical knowledge acquired during earlier sessions into a practical session. This session also helped the team to prioritize on the risk minimization activities to be taken."
<Group photo>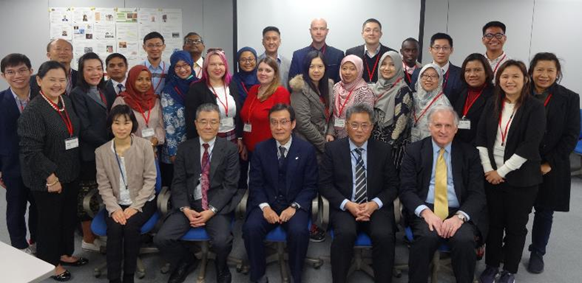 Overall comments from the participants
"Well organized, maintained good environment. All speakers are well versed in their domain. They are honest in their approach. Selection of training modules are made thoughtfully. Time maintained."

"All information that I got in this seminar is very useful for me and my institution. This program is well organized by the committee."

"This seminar is an excellent course in improving our knowledge and sharing experience from other countries."

"This seminar is interesting on all topics, especially, the topic RMP and workshop made me understand more the PV system and can be applied to further development in my job."

"The seminar was informative. There was a lot of information to learn especially the best practice to strengthen PV systems. Looking forward to another opportunity."
Information about future PMDA-ATC Seminars:
PMDA-ATC Seminars are held periodically, with a different theme for each seminar.
The Seminar announcements are posted on this website.

For any questions regarding PMDA Training Seminar, please contact us by clicking on the "Contact us" logo on top of the website, or please contact the Secretariat (e-mail: PMDA-ATC●pmda.go.jp).

Note: For the purpose of security, @ in the e-mail address is replaced with ●. Please replace ● with @ when you send an e-mail.