Here begins the text.
Report of the PMDA-ATC Medical Devices Webinar 2020 for Thai FDA
PMDA-ATC Medical Devices Webinar 2020 for Thai FDA
Pharmaceuticals and Medical Devices Agency (PMDA) recently completed the PMDA-Asia Training Center for Pharmaceuticals and Medical Devices Regulatory Affairs (ATC) Medical Devices Webinar 2020 for Thai FDA on August 26-27, 2020. This webinar was designed for medical devices and in vitro diagnostics (IVDs) reviewers from Thai Food and Drug Administration (Thai FDA). 17 regulators of Thai FDA participated the webinar.
The seminar opened with remarks by Mr. Shinobu Uzu, Director of PMDA-ATC, followed by 3 lectures provided by PMDA and Thai FDA staff members.
The topics discussed included review experiences of COVID-19 diagnosis kits and high-risk devices applied in plastic surgery and cosmetic surgery (see agenda for details). After each lectures, a round discussion based on questions from participants was held and enhanced understanding.
The participants and PMDA staff members actively engaged in discussions throughout the seminar.

Photos and participant comments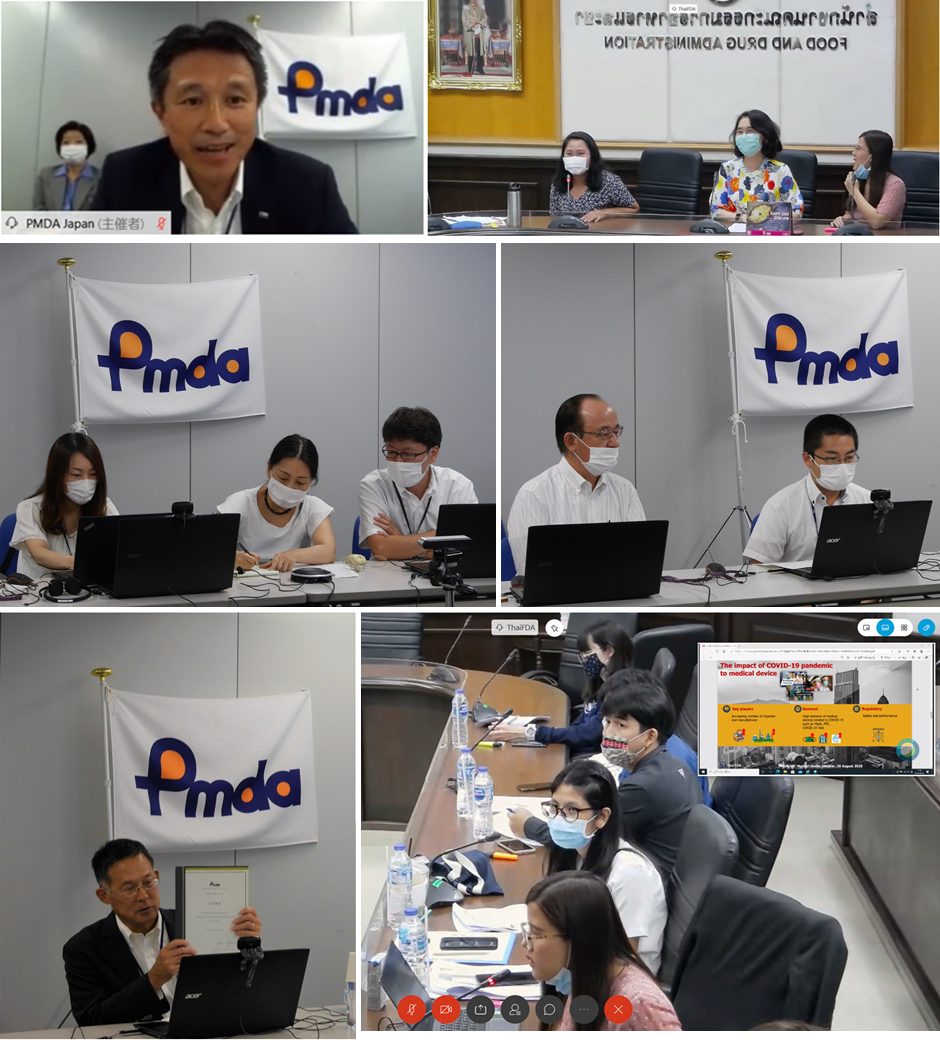 Comments from participants:

For the session of Sharing experience of medical device control during COVID-19 situation
"There are useful knowledge of Nucleic acid and antigen test from PMDA."
"Clear and complete."

For the session of Review of High Risk Products <dermal filler>
"Useful information."

For the round discussion
"It's good for round discussion and thank you for your information."
"Very helpful."

Overall comments from the participants
"It is good to conduct the webinar."
"I think the real meeting is better."

Information about future PMDA-ATC Seminars
PMDA-ATC Seminars are held periodically, with a different theme for each seminar.
The Seminar announcements are posted on this website.

For any questions regarding PMDA Training Seminar, please contact us by clicking on the "Contact us" logo on top of the website, or please contact the Secretariat (e-mail: PMDA-ATC●pmda.go.jp).
Note: For the purpose of security, @ in the e-mail address is replaced with ●. Please replace ● with @ when you send an e-mail.