Here begins the text.
PMDA-ATC Pharmaceuticals Review Webinar 2020
From December 15 to 17, 2020, PMDA held a webinar entitled "PMDA-ATC Pharmaceuticals Review Webinar 2020".

This webinar was intended for officials of overseas regulatory agencies involved in the review of pharmaceuticals. A total of 26 regulators from 14 countries/regions: Bangladesh, Ethiopia, Iceland, India, Indonesia, Lao People's Democratic Republic, Moldova, Nepal, Philippines, Saudi Arabia, Sri Lanka, Taiwan, Uganda and Zimbabwe, joined the webinar.

Recorded lectures by PMDA staff members were provided as the preliminary training materials.

The lectures covered start of clinical trial to New Drug Application/Market Authorization Application, review of new drugs, toxicological studies, Good Laboratory Practice (GLP), First in Human (FIH) studies, clinical trials, Good Clinical Practice (GCP), inspections, review of biosimilars, innovative review pathways, review of Chemistry, Manufacturing and Control (CMC) and review process and consultation for generic drugs, which then were followed during the live webinar by Questions and Answer sessions on the 1st,2nd and 3rd day. The participants actively engaged in all the discussions. (see agenda for details)

On the 2nd day of the live case study session, group discussion on the theme of review of new drugs and on the 3rd day of the live case study session, school-style discussion on the theme of review of generic drugs were held to deepen understanding.

The webinar live session opened with the remarks by Mr. UZU Shinobu, Director of PMDA-ATC, Dr. KIYOHARA Koshin, Director of Office of New Drug V and the Senior Coordinator, responsible for the Pharmaceuticals Review Seminars.

At the end of the seminar, Dr. FUJIWARA Yasuhiro, Chief Executive of PMDA handed the course completion certificate to each participant virtually.
Photos and participant comments
<Opening and Closing>




<Lecturers>




<Participants>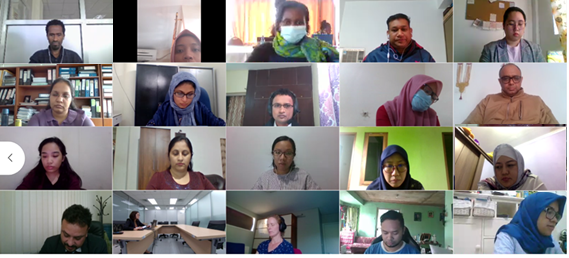 Comments from the participants:
< Recorded Lectures and Q&A sessions >
"The PMDA answered all the question with great patience."
"All session Q&A were very interested and very informative. I gain my knowledge in future it is useful to me. Thank you so much."
"Well organized and very informative"
< Case studies >
"Nice interactive session and group discussion with case study on review of New Drugs."
"The discussion was very informative. I've learned a lot."
"Case study was well designed and gave ideas on the critical points to be focus to review and approve generic drugs."
Overall comments from the participants
"It is an honor to be chosen as one of the participants in this webinar. I have learned so much from the wonderful and amazing presenters/reviewers behind PMDA. I would love to see more group discussions next time. Overall, it was such a great learning opportunity. Thank you very much PMDA!"

"Overall, the webinar was a great opportunity for everyone to learn and share their experiences to other regulatory agencies as well as gain knowledge from the experts and speakers of the webinar. I would like to extend my appreciation and gratitude to the hosts and speakers of the webinar. Thank you for giving us this opportunity to improve our technical capacity as a regulator. It would have been a very fulfilling experience if the workshop was conducted in Tokyo Japan in person. Maybe next year perhaps once the pandemic is over. Again, thank you."

"I would like to thank you PMDA for providing us such a valuable opportunity, specially in a period of this Covid-19 pandemic. I learnt a lot and I am happy that I could know the things in other countries related to regulatory. While thanking you again I would like to tell you that I think live sessions are more effective than webinars."

Information about future PMDA-ATC Seminars
PMDA-ATC Seminars are held periodically, with a different theme for each seminar.
The Seminar announcements are posted on this website.

For any questions regarding PMDA Training Seminar, please contact us by clicking on the "Contact us" logo on top of the website, or please contact the Secretariat (e-mail: PMDA-ATC●pmda.go.jp).
Note: For the purpose of security, @ in the e-mail address is replaced with ●. Please replace ● with @ when you send an e-mail.