Here begins the text.
Report of the PMDA-ATC Medical Devices Webinar 2021
PMDA-ATC Medical Devices Webinar 2021
From November 15 to 17, 2021, PMDA held a webinar entitled "PMDA-ATC Medical Devices Webinar 2021" as the Center of Excellence (CoE) Workshop in the Asia-Pacific Economic Cooperation, Life Sciences Innovation Forum, Regulatory Harmonization Steering Committee (APEC-LSIF-RHSC).
This webinar was intended for officials of overseas regulatory agencies involved in regulation of medical devices or IVDs. A total of 32 regulators from Australia, Bahrain, Bangladesh, Botswana, Colombia, Ethiopia, Hong Kong, India, Malaysia, Nigeria, Oman, Philippines, Saudi Arabia, Sri Lanka, Taiwan, Tanzania, Thailand joined the webinar.

Before attending the LIVE webinar, participants took the PMDA‐ATC E‐learning course, "Medical Devices Review" covering the following: Medical Device and In Vitro Diagnostic (IVD) Regulations, Review of Medical Devices, Review of In Vitro Diagnostics (IVDs), Medical Device Unit, Review of Medical Devices and International Harmonization, QMS Inspection for Medical Devices, International Standardization of Medical Devices, Clinical Evaluation of Medical Devices and Post-market Safety Measures for Medical Devices.

The webinar opened with the remarks by Mr. UZU Shinobu, Director of PMDA-ATC, Dr. NAKASHIMA Nobumasa, Senior Executive Director and the incumbent Co-Chair of APEC-LSIF-RHSC and Dr. ISHII Kensuke, Director of Office of Medical Devices I.

The lecturers were PMDA staff and the guest speakers from academia.

This webinar comprised lectures and Q&A on international harmonization of medical devices regulations, international standardization of medical device and Medical Device Single Audit Program (MDSAP), in addition to case studies on clinical evaluation of medical devices and post-market safety measures for medical devices.
< Program > see the attachment.

At the end of the webinar, Dr. FUJIWARA Yasuhiro, Chief Executive of PMDA handed the course completion certificate to each participant virtually, and Dr.SATO Junko gave the closing remarks.
After the CoE workshop the PMDA workshop was offered to those who are interested in the further topics.
The PMDA Workshop comprised lectures on IVDs, biological safety, practical application, software as a medical device (SaMD), and a case study on SaMD review. Furthermore, Q&A for E-learning contents and all live lectures was held and the participants and lecturers actively engaged in the discussion.

Photos and Comments
< Participants >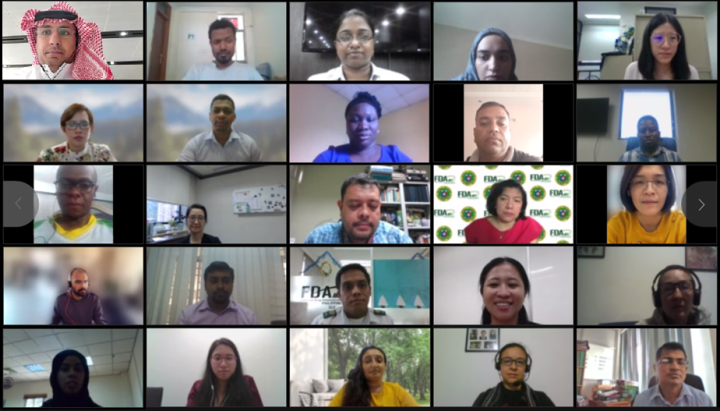 < Opening and closing >

< Lectures >

Comments from the participants:

"Very helpful. Learning the contents in E-learning course and applying through workshop."
"The webinar was very informative and practical case study was very helpful to understand the regulations."
"This was good opportunity for evacuators from the various disciplines to follow common harmonize MD evaluation process."
"All the topics were very helpful to me as a regulator. I was able to learn a lot of things from senior colleagues in the group discussions."
"The organizers strove to share the most relevant information"