Here begins the text.

Click here to see the Promotion Flyer
Introduction
The Pharmaceuticals and Medical Devices Agency (PMDA) of Japan and the Food and Drug Administration of the United States (U.S. FDA) are pleased to announce the "PMDA-ATC & U.S. FDA Pediatric Review Seminar 2023" for officials from overseas regulatory authorities who are engaged in the review of pharmaceuticals, especially in the field of pediatrics. This seminar will be held in-person at the PMDA Office in Tokyo from July 10 to 13, 2023.
The seminar will cover topics relating to the current pediatric guidelines and practices in Japan and the United States through lectures and Q&A sessions, and case studies consisting of small group discussions among participants.
The aim of the seminar is to provide participants with the opportunities to take a fresh look at their own regulatory systems and to gather additional information that may enhance the review of pediatric drug development programs within their own regulatory frameworks.
The seminar is not open to industry or non-regulatory authorities. Participation from many regulatory authorities is welcomed.
Key Webinar Objectives
To learn the scientific, ethical and regulatory considerations when evaluating drug products being developed for the pediatric population.
To learn the global standard guidelines relating to the review of drug products being developed for the pediatric population.
To learn the current practice and issues in the review of drug products being developed for the pediatric population when data are collected in adults and the pediatric population of other races.
Who should apply
Regulators ONLY (Intermediate level)
Employees of regulatory authorities with working experience of pharmaceuticals review, particularly in the pediatric field for over 3 years.
Participants need an ability to readily communicate in English and discuss smoothly because the training is provided in English. (with English-Japanese consecutive translation in some sessions)
Date / Time
July 10 (Mon), 2023 10:00 A.M. – 04:15 P.M. JST (UTC+9)
July 11 (Tue), 2023 10:00 A.M. – 04:30 P.M. JST (UTC+9)
July 12 (Wed), 2023 10:00 A.M. – 04:30 P.M. JST (UTC+9)
July 13 (Thu), 2023 10:00 A.M. – 12:10 A.M. JST (UTC+9)
Program (subject to change)
See the program (attached)

Optional
Participating regulatory authorities may request individual meetings with PMDA and FDA. These meetings will allow participating agencies to ask specific questions related to their agencies. Each meeting will be for 30 minutes.
Application
Number of participants: approx. 30
Close of registration application: April 10, 2023
To apply for the seminar, please make sure to complete all the necessary items on the application form, including the signature by the applicant's head of the organization, before the closing date.
Click the link to apply: https://www12.webcas.net/form/pub/pmda-atc/pediatric2023
If applications exceed the upper limit of 30, selection of the participants will take place at the discretion of PMDA.
Confirmation of registration and additional information will be sent to the approved participants after the closing date.
Others
Materials will be provided electronically. Participants are recommended to bring their own personal computer to access these materials when needed.
There are Covid 19-related border measures to visit Japan and return to your country. Please confirm the current measures at your own risk.
Fee
There is no registration fee for this seminar.
Information on travel and hotel reservation assistance will be provided to the approved participants.
Travel health insurance is not covered by PMDA but PMDA strongly recommends participants consider obtaining it on your own.
Seminar location
Pharmaceuticals and Medical Devices Agency (PMDA):
Shin-kasumigaseki Building, 3-3-2 Kasumigaseki, Chiyoda-ku, Tokyo 100-0013, Japan
Access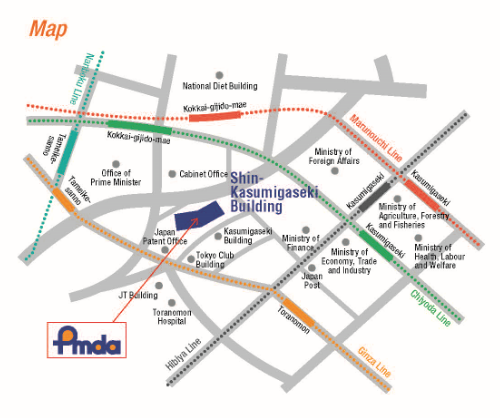 Please use public transportation. Nearest Tokyo Metro Subway Stations:
5 minutes' walk from Exit 11 of Toranomon Station on the Ginza Line
8 minutes' walk from Exit 3 of Kokkai-gijido-mae Station, on the Marunouchi Line, Chiyoda Line
8 minutes' walk from Exit A13 of Kasumigaseki Station, on Marunouchi Line, Chiyoda Line, Hibiya Line
10 minutes' walk from Exit 8 of Tameike-sanno Station, on the Ginza Line, Nanboku Line
Contact Us
For more information, please contact:
Secretariat, PMDA Asia Training Center
E-mail: PMDA-ATC●pmda.go.jp
Division of Training Center Management
Office of International Programs
Pharmaceuticals and Medical Devices Agency
Shin-Kasumigaseki Building, 3-3-2 Kasumigaseki, Chiyoda-ku, Tokyo 100-0013, Japan

(Note: For the purpose of security, @ in the e-mail addresses are replaced with ●. Please replace ● with @ when you send an e-mail.)