Here begins the text.
Message from the Chief Executive
Greetings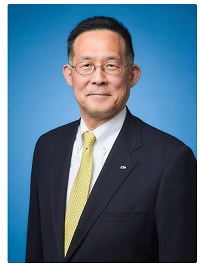 The Pharmaceuticals and Medical Devices Agency (PMDA) plays three key roles—relief services for persons injured by adverse reactions to drugs and regenerative medical products, product reviews, and safety measures. To provide patients and healthcare professionals with rapid access to safer, more effective drugs, medical devices, and regenerative medical products, the PMDA is engaged in ensuring quality, efficacy, and safety from development to post-market stages.

Since its inception in 2004, the PMDA has steadily improved its outcomes based on regulatory science. Those include significantly diminishing its review time frame for new products. With the emergence of innovative products, an increasing number of cases will have no precedents to refer to, propelling the PMDA to be the first in the world to make regulatory decisions. Quality at the PMDA will be even more important.

The PMDA will promote regulatory science, assess risks and benefits from scientific perspectives while remaining vigilant of timeframes, with the spirit of Safety First. The PMDA will also further transparency, to better convey grounds for its decisions to healthcare professionals, patients, and the public.

Relief services for persons injured by adverse reactions to drugs and regenerative medical products are highly regarded internationally and is the source of Japanese pride, our precious asset. The PMDA will carry on with offering support to people who have suffered injuries related to drugs and regenerative medical products.

Today, the PMDA is recognized as a regulatory authority standing shoulder-to-shoulder with its counterparts in Europe and the United States. We look forward to playing an active role in discussions on international harmonization of regulations, and will contribute to raising standards at Asian and other regulatory authorities.

Without being bound by precedents, the PMDA will proactively pursue new initiatives and contribute to the advancement of the public health and safety of all people in Japan.
April 2019

Yasuhiro Fujiwara, MD, PhD
Chief Executive
Pharmaceuticals and Medical Devices Agency

Toward the realization of "4Fs (Firsts)"