Here begins the text.
HBD East 2019 Think Tank Meeting
Through Japan-US Medical Device Harmonization by Doing (HBD), the U.S. FDA, MHLW/PMDA, academia, and industry developed internationally agreed upon standards for global clinical trials related to cardiovascular devices, and addressed regulatory barriers that may delay timely medical device approvals in both countries.

In order to announce the outcome of recent HBD activities and discuss future plans with the public, the HBD East 2019 Think Tank Meeting was held on December 11, 2019 in Tokyo.

Approximately 170 people from regulators, academia and industries in the U.S. and Japan participated in this meeting and the high-profile topics such as utilization of real world evidence and promotion of pediatric medical device development were discussed in addition to providing working group activity updates. In panel discussions, several experts shared their experiences and discussed potential solutions for challenges in the development of medical devices.
Host
Ministry of Health, Labour and Welfare (MHLW)
Pharmaceuticals and Medical Devices Agency (PMDA)
The Japan Federation of Medical Device Associations (JFMDA)
Date
Wednesday, December 11, 2019
9:30 a.m. - 5:30 p.m.
Venue
Nadao Hall, Zenshakyo
Shin-Kasumigaseki Building lobby floor, 3-3-2 Kasumigaseki, Chiyoda-ku, Tokyo, Japan
Speakers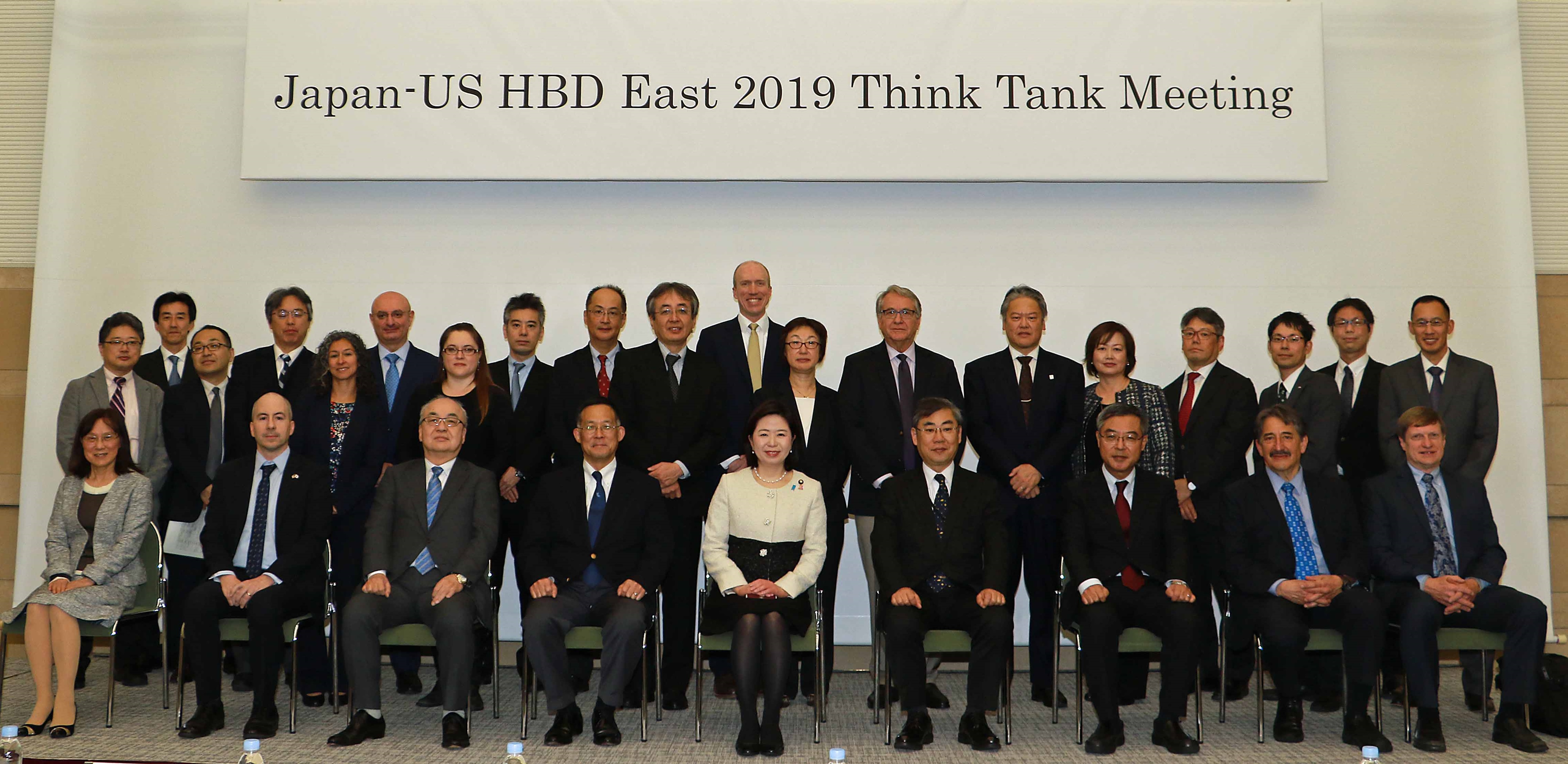 Outcome
Outcome Statement
Panel Discussion Summary
Program
Please click here for information.
| | |
| --- | --- |
| 9:30-9:55 | Welcome Speeches |

-

| | |
| --- | --- |
| 9:55-10:30 | Keynote Speeches |

-

Regulatory Innovation for Safe and Early Access to Medical Devices in Japan
MORI Kazuhiko, Councilor for pharmaceuticals, MHLW

Overview of HBD Activity
Mitchell Krucoff, Duke University Medical Center & HBD Chair

| | |
| --- | --- |
| 10:30-11:00 | Update of HBD Activity |

HBD Steering Committee
OHASHI Moe, Office of Medical Devices I, PMDA

HBD for Children
Nicole Ibrahim, CDRH, FDA

| | |
| --- | --- |
| 11:00-12:40 | HBD for Children: Progress and Challenges |

Challenges and Achievement: Japanese Regulatory View
MATSUMURA Ryosuke, Office of Medical Devices I, PMDA

Challenges and Achievement: Japanese Academia View
INUZUKA Ryo, University of Tokyo Hospital

How Should We Develop Medical Devices for a Small Market?
Industry Executive's View on What Companies Can Do
TSUTSUI Yasuhiro, President, Tokai Medical Products Inc.

Panel Discussion

-

13:40-15:20

How Can We Generate Robust Real-World
Evidence from Real-World Data?

Pre and Post-Market Use and Current Consideration of RWE for Regulatory Use
Misti Malone, CDRH, FDA

The Effort of Generating Robust RWE Including Registry and Post-market Survey: Japanese Academia View
YOKOI Hiroyoshi, Fukuoka Sanno Hospital

-

A Multinational Company's Effort of Utilizing RWE
in Japan, the US, and Europe
Theodore Lystig, Medtronic

How Can We Generate Robust Real-World Evidence from Real-World Data?
Art Sedrakyan, Weill Cornell Medical College

PDF

Panel Discussion

-

| | |
| --- | --- |
| 15:40-17:20 | Promotion of Early Patient Access to Medical Devices in US and Japan |

The Approach and Challenges of Entering an Overseas Market
INAMURA Kenichi, Kawasumi Laboratories, Inc.

-

The Approach and Consideration of Advancing into Overseas Market
Eric Chen, Abbott

Current and Prospective Activities: US Regulatory View
Kenneth Cavanaugh, CDRH, FDA

Panel Discussion

-

Closing Remarks

-